This is a Guest Post by Adam, who has started off online marketing ever since year 2004. One of his customer has had a great results together with his help marketing a site. Find out more on the website – here.
Anytime you produce and publish content on your blog, you must make it strong by crafting a strong and compelling title. You know very well that it is your blog post title that makes anything with content possible.
Unless you can employ a competent copywriter, you will need to do some learning, homework and practice in this crucial area. Let's examine just a few of the known blog post title writing principles that have stood the test of time.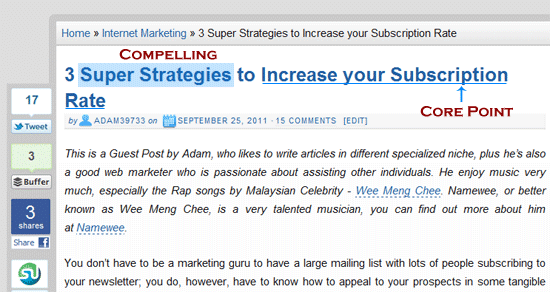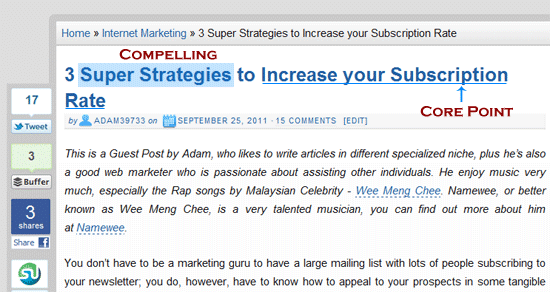 1. Evoke the Interest of the Reader
A great title/headline is all about making the reader or prospect curious about what's coming up. The only way, as we have stated, the reader will continue reading it if the headline makes a compelling statement.
Practicing and finding out how you can bring that curious feeling to the fore is something you can morph into so many other techniques. Obviously you have to produce that emotion in your readers otherwise you know what happens.
2. Extreme SEO Titles can harm
Very often people who write articles will place appropriate keyword phrases in their titles. So then you can derive the benefits just in case there is an opportunity for ranking well.
But once again the issue of SEO writing versus writing for your audience comes into play. Also, avoid stuffing your title with keywords as that may lead to other complications with the search engines and you may receive a penalty for keyword stuffing.
3. Mention the Core Content/Point
There is nothing wrong with talking about benefits in the post title, and another way to look at that is the unique benefits available. Bear in mind, however, that using the core point in a title is not written in stone.
Even though it is not mandatory, if you can pull it off it can work like gangbusters. The more you focus on the point, the easier it will be for you to convince your readers about the quality content.
There are tons of great information available on the net about crafting blog post titles that work. But do not forget that knowing your audience is a critical part of being able to write titles that urge your readers to stay further and read the entire post.
A hugely important part of copywriting and titles is to be succinct and have total clarity. Some copywriters will write one hundred headlines before they decide they have a winner.
So which one of these Steps do you follow to write attractive post titles on your blog ?