This is a Guest post by Adam who likes to write content in a variety of niche. He enjoy music very much, especially the Rap songs by Malaysian Celebrity – Namewee. Namewee, or better known as Wee Meng Chee, is a very talented musician, you can find out more about him at his website.
If you want lots of targeted traffic to find your blog or your website you need to understand what is involved in gaining exposure both through the search engines and through other means too.
Now, when we mention the search engines, we're talking about ranking well within them not just by optimizing your own site but through gaining relevant backlinks. Sure you have all sorts of means for building backlinks but blog commenting is still one of the strongest available to you.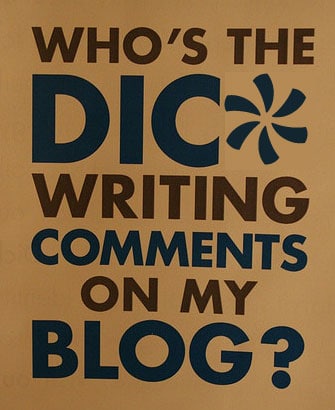 However, one problem that you could possibly face with blog commenting is finding the right blogs and getting your comments approved. This article will teach you how to get this done and the steps you need to take.
Search for Fresh Posts
When you start your blog commenting your focus should stick to the posts that have been published recently because this makes it much easier to get your comments approved by the blog owners. When you look for blogs to comment on you'll see lots of them that have great content but that haven't been updated because they are dormant or abandoned.
You need to stay away from blogs of this ilk because it is not very likely that the owner will see or approve your comment. Instead, you should use the search features in the engines like Google to find blogs that have been updated recently and get to commenting.
Your website must be Professional
Before the blogger approves your comment you can be sure that he or she will visit your site to ensure that you are the real deal. Before you leave even one comment you need to make sure that you've taken your website as far as it can go before you indulge in blog commenting.
Don't expect to make magic by just slapping up a link to a free blogger blog, you need to have gravitas. The overall impression that you make on the blogger completely depends on how you present your website along with the content of your comment.
Compliment the Blogger
Before you begin with your comment, always make a point to compliment the blogger and give him/her something to bite on. Make sure your compliment is honest and actually relates to the post on which you are leaving your comment.
This can help you feel good and let the blogger know that you're a real person and that you're being honest. However, don't start off with just flattery–that's a terrible thing to do, it makes you look fake and like you're just trying to impress the blogger for no good reason. Find a balance between good words and comment content.
Every thing you do as you work to leave good comments on blogs will help you get your comments approved and that will help you get more quality backlinks and some highly targeted traffic. This is why it is important to keep your determination level up so that you can make sure you succeed at blog commenting and don't ever think about giving up on it.
You will face ups and downs as you move ahead, but if you're able to make it through these times, you'll see for yourself that effective blog commenting has its own advantages.