Bloggers usually face a big dilemma when it comes to Vocabulary. If you are facing a similar dilemma, then don't feel sad about it & think that you're the only one who is facing it. It's almost 80% blogger's nightmare. Though smart one's manage to overcome it using online tools, Autocorrect functions built-in various blogging tools like Windows Live Writer (WLW), WordPress plugins like After the Deadline,etc.
For those who continue to face it, then TheFreeDictionary is the solution for you people. It's an online tool which has a collection of the Dictionary cum Thesaurus. One added advantage is the language factor. It has dictionaries of about 10+ languages. So whether you blog in English or any language this tool is certainly going to help you.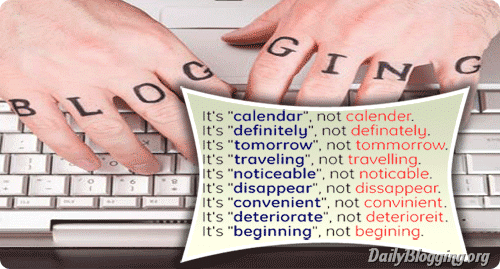 Have a look at the image above, Those are the most common spell errors faced while writing a blog post. Sometimes when you are short of time but you have decided to write something important to alert your readers, that's the time when these spell errors take place.
How TheFreeDictionary could prove helpful in Blogging ?
Collection of Dictionaries
Most important aspect of the lot. TheFreeDictionary covers the entire Dictionary & Thesaurus. It's main source is the Houghton Mifflin's premier dictionary, the American Heritage Dictionary of the English Language, Fourth Edition. You may trust the Oxford, but in America people trust the Houghton Mifflin's Premier Dictionary. Here is a list of things which TheFreeDictionary covers,
Dictionary/Thesaurus
Medical Dictionary
Legal Dictionary
Financial Dictionary
Games & Quizzes
Most of you leave the end pages of a paper unread. It normally contains word games, crosswords, quotes, etc. A Similar collection of Games & Quizzes is presented by TheFreeDictionary. You can play around with the Hangman game, Word of the Day, Spell Bee (which asks you to spell out a word to which a description is printed over there), Quote of the Day, etc.
Easily Customizable homepage
It's just like an iGoogle homepage, where you can shift the tabs with ease. You can add external RSS Feeds as tabs. On the left side a tab names 'Add/Restore Content' is there. Using that you can add the predefined tabs with just a single click.
Using TheFreeDictionary as a reference you could blog freely & more importantly with ease!
I discovered this site today, as I never used to search for new words online. So, thought of sharing it with my readers. For more such tips you can Subscribe to our Daily Updates.