This is a Guest Post by Jane, who is partnered with Coupon Triumph, a site that offers cool discount coupons for various products including Bistro MD and Diet to go. Here are a couple of them: coupons for bistro diet, diet to go discounts.
Blogging is more than just writing and posting online; making more money too. Blogs can be a passion for few who are hardcore writers. Certain people may treat blogging as a way to express their feelings, share their knowledge and promote their products.
If you are going to spend an hour or so each day for blogging then you can categorize it under passion or hobby, but if you are spending about half your conscious time in blogging, then you surely need to rewarded.
Are comments and likes enough? No.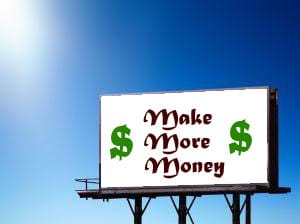 When you can make more money from your passion then that is real achievement. You need to monetize your blog for that. But, you can't neglect or annoy the audience for the sake of earning because they are your prime priority. How to balance between these two? Let's see.
Advertisements – They Make or Break your audience
Immediate thought on hearing the phrase "monetize" will leave us in advertising. Advertisements can be done through a variety of methods; be it contextual, affiliate ads or whatever (like Yahoo!, Google AdSense) your ads must be very delicate.
Infolinks Related Tags can be considered as a CPC alternative if you are not getting Approved by AdSense or earning very less from it.
Do's:
First concentrate on readership, once you have a consistent set of audience then you can start advertising.
Advertise products that are relevant to your theme or concept. For e.g. if your blog is about discount coupons you can put advertisements to coupon discounts of products such as Bistro MD or Diet to go coupons. But you cannot be selling Problogger's ebook there!
Maintain an efficient side bar for ads.
Don'ts:
Flashy ads that blink or the ads in funky colors are a big turn off; they irritate the readers and break your reputation.
Fake ads are becoming a big concern these days. Most people won't click on the ad until they can trust it; few other people if they are disappointed with the ad, they may never visit your page again. So always put ads that you personally trust.
Don't place your ad at top of your blog or in between your blog title and post. This irritates your audience and also makes them feel that ads are your main purpose.
Pop up ads – unless you are selling your own product, pop ups for affiliate products can be really annoying.
Make more Money with Affiliation – Make it & Mark it
Affiliating programs (dropping product names and getting paid for it) are one of the most effective ways to earn more money without irritating your audience.
Do's:
Join relevant affiliate programs. For this you may use Amazon Associates or any other resource that offers good affiliate programs.
You can mix-match products from various resources.
Mark your affiliate links; this is necessary if you have lot of audience (intelligent ones).
Don'ts:
Don't over populate your page with affiliate links.
Don't write only about affiliate products in your blog. You must first provide value; monetization comes next.
Do not write fake reviews or promote products that you have not tried yourself.
Got another business? Link to it
Apart from blogging you have businesses like styling, dress designing, keychain designing, catering etc? Then advertise them on your blog. This will be a dual benefit to you
Do's:
Be the business relevant or not, just make sure that the readers know that the product you advertise is also yours (this will add a sense of trust to them).
Try to use short but catch phrases in your ads. A banner on a prominent position will do otherwise.
Don't:
Don't over concentrate on the ads and do injustice to your blogging. You may not drive your traffic away to your "other" business.
Of course, making money with blogging is what every blogger deserves. And as many of you might think, making money with blogging is not an impossible thing. If you use the right strategies, you could easily make more money even without you knowing it.
Provide value, gain trust. You will do great!
So do you practice any other method to make more money from your blog without driving your readers/audience away ?