This is a Guest Post by Praveen, who is associated with a webhosting company which has very good website hosting reviews. If you would also like to write for us then, Submit your Guest Post after Registering using the 'Become A DailyBlogger' page.
For the success of your business, especially when you want to spread the word online, it is necessary that you register yourself to one or more of social media, and one such powerful, popular, famous and much user friendly social networking site in Facebook.
Before you proceed, first read my 5 point post to Generate Traffic using Facebook.
So do open an account and do the following to promote your blog or blog using Facebook,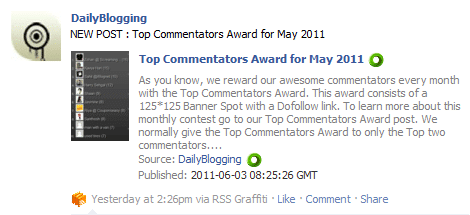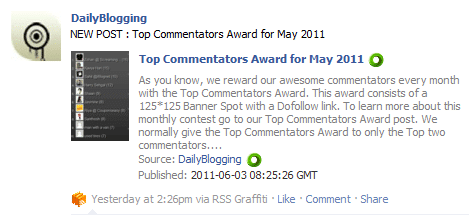 1.
Post your Blog URL on your Facebook Profile
When you are opening your new account in Facebook, or while creating your profile page, it is advisable to display your blog address and details.
Nevertheless, the system that Facebook has to protect your personal information is being restricted only to your Facebook profile and do not guarantee the transmission of your personal information via your Facebook profile.
2.
Create pages and like buttons for your blog
Be it your own business or your personal page promotion, use the create page or like button for a personal use and this will reflect onto the amount of traffic that is being diverted to your blog via Facebook.
See that you keep this page updated about the various activities that you do on your blog and keep posting at regular intervals like once in an hour if you are rigorously canvassing about the status of your webpage. This could be automated using services like ping.fm on your blog.
3.
Make Facebook page as your Landing page
When you are promoting your blog elsewhere on line, use and edit links on your articles to use Facebook as your landing page, and you will find yourself providing with relevant information to divert the traffic to your Facebook page and back to your blog pages, and thereby promoting your blog via your webpage articles.
4.
Use Facebook Advertisements
Create business advertisement using an ad application that is available in Facebook for promoting your blog and like pages. For this purpose, you need to shell out some money from your pocket, but gives immense exposure to loads and loads of users of your similar interests who are all Facebook users.
5.
Use of Facebook third party applications
There are a number of third party applications that are available with Facebook, which are useful in inviting and in the promotion of your blog via Facebook.
Some of the applications that can be included in this process of promoting your blog will include My Blogs, Social RSS, Networked Blogs and Blog Badges.
RSS Graffiti is another useful facebook application which will help you get some visits. The use of RSS Graffiti is to update the status of your page on the profile page of yours.
These is made possible by using RSS Graffiti using your Facebook page and link them to your profile page, you will notice that automatically your profile status being updated via your blog. You need not re share the link to your profile page, thus decreasing your workload.
Which other methods/tricks do you use to promote your blog on Facebook  ?