Today, Blogging is looked upon as something different from what it was looked upon a few years ago. It's not something that you write something casually and people like it. There are lots of things a Blogger needs to look out for when starting a blog. A Blogger needs a nice Domain name & a Good yet Affordable hosting. But do you think a newbie Internet guy would have that much money to invest in those products or services ? The answer is obviously a big 'NO'.
Definitely that blogger can use WordPress.com or Blogger.com. But again you face the disadvantage of not having a Custom Domain name, which affects your Site's SEO in the longer run. The Solution to all these problems is provided by the Talent Bloggers Program which is recently launched by Quanik Media.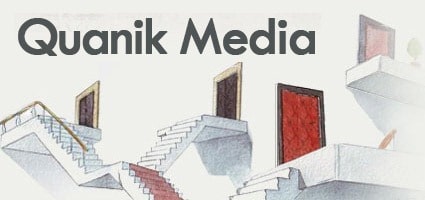 Quanik Media is a group formed by Enthusiastic Professionals. Most of them are quite passionate about Blogging & thereby they understand the difficulties faced by a newbie. Lets quickly move on and see what the Talent Bloggers Program has to offer.
Talent Bloggers Program
As the name suggests, its only for Bloggers who are passionate about the stuff. If you are of the view that with Blogging you can make money online quickly, then this program is not for you.
There are a couple of Requirements which you must fulfil to be eligible for the Talent Bloggers Program.
You mustn't own a Top Level Domain name or a Hosting.
You Should Blog Regularly.
They have kept the requirements pretty basic, to ensure that the passionate bloggers get some well deserved exposure in the blogosphere. Starting this month, Quanik Media will also be accepting International Applications.
Go to their Submit Entry page and fill in the details to get approved/accepted in the Talent Bloggers Program for the month of March. If you are Accepted then you'll be given a Top Level Domain & an Unlimited Hosting for an year.
If you liked this program, then do spread a word so that people who are in need of it could be helped. You can also Subscribe to Our RSS Feeds / Daily Updates.
What do you think of the 'Talent Bloggers Program' ?