This is a Guest Post written by Kevn Moor, who also writes for mac-how.net, a site emphasizing on mac fix. If your want to Guest Post on DailyBlogging, then refer the 'Become A DailyBlogger' page and Submit your post for review.
Do you have lots of information that you can't keep anymore? As if you have the feeling of irritation if you can't let it out? Shout it to the world, and let the people know what you feel. Let them share their opinions and together inform the world about your freedom.
Feel free to share your opinions to the world through the internet. You can blog it! Stick with this article and it will help you how to become a good blogger, in other words It will make you blog better than ever.
A blogger is person who feels free to share his or her opinions to the whole world. The bloggers used the internet and the computer in sharing news and opinions. This is the modern means of the people today in expressing and gathering opinions.
This will serve as their emotional outlet on some issues and events that will capture the interest of the people.
Want to make your own blog? Here are some useful tips that will surely help you. If you already have a blog up, then you can refer to some of these blogging tips listed below and blog better.
Blogging Tips :-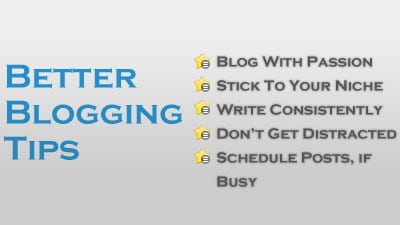 1.
Stick to your Niche (

Niche Blogging

)
If you will create your blog, don't forget to prioritize this tip. Readers are likely to be interested in reading if they can still follow the flow of your content. Though this is expressing of opinions, be reminded that not all opinions will apply to the topic.
If you will just express anything, readers will be confused and will not continue to read your blog.
2.
Be informative
Make sure that you are giving the factual information of the topic. This will affect your reputation as a blogger and a person as well. Do not ever forget that blogging is not merely expressing opinions alone but also information.
People will be captured to read if you are sharing factual information and not gossip.
3.
Choose Hot Topics within your Niche
In capturing the interest of the reader, you must be updated. Choose topics that will capture the readers. These interesting topics are those present news and existing issues. No one is interested to read if they already know the issue that happened a long time ago.
Niche blogs will win the race against Non-Niche blogs when it comes to Search Engine Competition.
4.
Schedule your Posts before you get Busy
Make your own schedule and follow it. If you want to create a reliable blog to the people, stick with your schedule. This will create trust to your audience or readers. They will not waste their time with the outdated updates of your blog site.
There's a big possibility that they will look for another updated blog sites. This is very dangerous for your blog site; it could mean loosing your audience.
If you are going out somewhere or you get busy due to other work, then it's important to send out posts regularly i.e. to Schedule posts. WordPress by default comes with a Scheduling option.
5.
Keep it Simple, Silly!
Produce Quality Content which is pretty simple to read, so that your readers don't face a hard time in understanding it. This will help the global audience to have easy connections on your topic.
Do not use strange languages and acronyms without explanation. But, if you can make it simple then it will create a clear flow.
6.
Keyword Research
If you want to attract the audience to read your blog, you should include the key word in the title. Good titles will not exceed 12 words. Remember to cut short your title (supplied to Search Engines), and keep it under 70 characters.
Blog titles will serve as the bait to your audience to read your blog.
7.
Quality + Quantity = Better Blogging
You must create quality content of your blog. This will make your blog accessible to all search engines. Keep your old posts into the blog archives to open the door of related contents of the theme.
Quality Content is definitely the king, but if you don't write long posts i.e. min. 350-400 words, then the Keyword Density would be pretty less & it will harm your On Page SEO to an extent.
8.
Blog Consistently
If you will date the content of your blog regularly, this will create bonds to the search engines. Every time a person will search for the related topics/the latest topic, your blog is surely on the lists.
Check whether your RSS Feeds are getting pinged to other Feed sites or manually ping your blog using Pingomatic.
9.
Re-Read your Content after Writing
Do not forget to review or check your work it is important to remember that you have the whole world as your audience. Do not put yourself into shame. Read again your work, it might have wrong spellings or wrong grammar.
If you don't want to be mocked by the readers, check your work. If your first language is not English, then you should consider improving your writing skills & increase your command over english using TheFreeDictionary.
Writing Tips :-
These are the basic tips that will surely give benefits to the aspiring blogger. With these you can share your opinions to the whole world. Follow these steps and you'll definitely see yourself blogging better.
Drop in your point of view or tip if you got one. Would love to read them!