This is a guest post by Aritra Roy, who is the co-founder of daPazze & is a professional and experienced blogger. He writes about 'Blogger vs WordPress' topic as seen in this post as well.
Day by day blogging is becoming more and more popular. But for blogging you need to have a platform, like Blogger, WordPress or Tumblr – I just named the three most popular and most used blogging platforms. But there remains a huge confusion among many new and not-so new bloggers, in choosing between the most suitable blogging platform for them.
In this article I am going to show you a comparison between the two and how WordPress wins in the Blogger vs WordPress battle.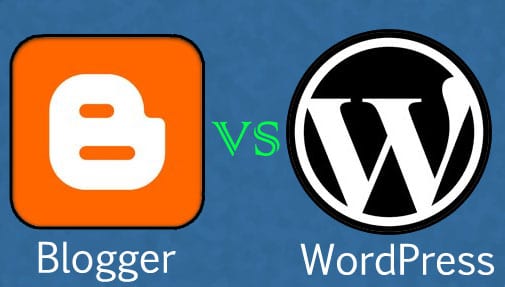 Fortunately or unfortunately, after the launch of WordPress, it has been the most favourite and most used blogging platform ever. There are hundreds of reasons on why you should choose WordPress over Blogger as your blogging platform. In these article, I am just going to do the same for you.
I will show you a few reasons and factors that make WordPress better than Blogger and I will also give you clear and solid reasons, as to why you should go for WordPress and not Blogger.
But before going into this article, I want to make things a bit clear. This article is a bit biased about choosing WordPress and not Blogger. I have expressed my own views but that doesn't mean that Blogger is bad or should not be used. It's completely up to you to decide, but I hope you will enjoy the post.
1. Customization and Flexibility
This is one of the main reason why people choose WordPress over Blogger. WordPress can offer you any amount of customization you want for your blog. There is a vast availability of themes and plugins for WordPress. One can argue by saying that Blogger also has a vast availability of themes. But the word "vast" doesn't suit with Blogger.
Blogger definitely has availability of some cool and beautiful looking themes, but they are limited in number and are generally non-customizable.
Now lets come to the point of plugins. Does blogger even have any plugins ? The answer is no, whereas WordPress has over 18,000 plugins to offer you for free in its plugin directory. This doesn't end here, as you can avail not only free but also plenty of premium plugins for your blog which are very essential for any blogger.
2. Hosting Opportunities
Though Blogger offers you to blog for free of cost, as you don't need to spend a single penny on either hosting or domain, but still there are enough reasons to choose WordPress over Blogger.
Blogger can be like a prison, where you have to stay behind the bars. But if you buy a premium hosting service by spending a little amount of money, then you can customize each and every file on your server.
If you want to become a professional blogger, and want to continue your blogging career for a long time, then you will surely need these customizations. Who wants to live in a prison, where there is no room to move your limbs.
3. How Secure is your Blog ?
Blogger is definitely secure as it is quite obvious that anything that Google itself is hosting will definitely be in secure hands. This simply means that there is no one to steal the data and files of your blog from you. But there is a different issue on this matter.
Lets discuss it in a brief. Google simply hates spam and has a very strict web spam team. So if your blog is hosted at blogger.com, and somehow your blog's content is related to spam, then Google can sue you at any time. There have been many cases where Google has just deleted the blog without even a single prior notice.
Even if your blog is not having any content related to spam, but still there remains a huge risk, that the next day when you sit at your computer desk and intend to open your blog, you find it deleted. But if you are on WordPress there is certainly no risk of your blog being sued or deleted. Its your own blog, and its completely safe at your own hands.
4. Blogger for Newbies, WordPress for Pros
There has been a huge talk over the Internet that Blogger is generally preferred by the newbie bloggers, who are unaware of the technicalities of blogging. Simply put, most people use blogger as a practice platform where they can get their hands ready.
Statistics say that a large number of bloggers, migrate from blogger to WordPress. Popular reasons are 'customization, flexibility, features and more security'. In this article I have shown you why WordPress is better than Blogger.
So which side are you on ? WordPress or Blogger ??