DailyBlogging is now Powered by Thesis Theme
This was on my mind since the end of last year & with the beginning of 2011 I decided to start the work at the backend. It definitely took some time because I had to do everything from scratch to get to this state of the design. Checkout the Comparison between Thesis – Genesis – Swift which I had made prior to the start of the design. The important factors which I considered during this redesign were Load time of the site. I used to constantly check the Y!Slow status bar every time I added something new on the site. Second factor was Obviously the SEO of the site. With Thesis you can be assured that you don't need to pull your hairs off, because Thesis is quite nicely Optimized for SEO.
[ad#adsense-incontent]
The third thing which is pretty vital was the exclusion of some in text ads. In the previous design we had a clustered navigation. So while making this design I had one thing in mind for sure, i.e. to keep the site clean & thereby making navigation much easier.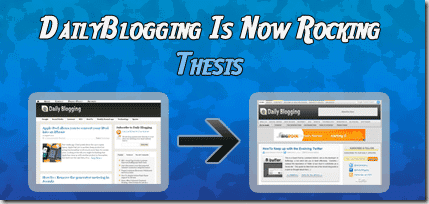 A Question you would be having in your mind when you look at the new design is, Why I used only Greyish – White Combo on the entire design. The answer is because I love that colour scheme. I hope you'll also like it.
Opportunity to Become A DailyBlogger
With the new design, there comes another addition to the system i.e. Now you can Write articles for us & Become A DailyBlogger. You'll be given two Do follow links, which may consist of your site's name or the Keywords of your choice. Go to the 'Become A DailyBlogger' page & check out How to Register yourself & start writing Guest Posts which abide by our Guidelines. In case you face any difficulties during the Registration Process or you've certain doubts, then feel free to navigate to the Contact Page and write in your problem.
What's New in DailyBlogging V2
Guest Blogging.
Faster Loading.
SEO Optimized.
Official Twitter Account @dailyblogorg.
Social Box for Post Author (Twitter & Facebook)
Non-Clustered or Clean Navigation.
Reduction of some bugging Adverts.
Top 10 Commentators instead of just 5.
Recent Posts from 6 Different Categories at the Footer.
That's it from my side. I would love to listen what you feel about our new Design in the Comments Section ? Check the 5 Reasons for Redesigning a Blog in case you're also planning to redesign your Blog.
If you like our posts/the new Design then Stay Subscribe to Our RSS Feeds / Daily Updates.
Share on Facebook
Tweet this post