DailyBlogging Traffic Stats for February 2011
Well it's been a month of revamps for DailyBlogging. On 17th we unveiled our new design & now we are Powered by Thesis Theme. Yes, the started the month off pretty badly. Before 17th we managed to Publish only 2 posts out of which one was a Guest Post. It was a horrible start mainly because I was busy in completing the design. Then another obstacle came in the form of a hardware problem in my pc. I had to stay without PC for almost a week.
But despite of all that we are proud to complete February on a high note. We noticed a considerable increase in traffic as the month ended. I realized the importance of niche blogging and I must admit we are getting success by following that path. You can read my post on Single Niched Blogs if you want to increase your blog's traffic by Producing Quality Content.
Traffic Stats (Google Analytics)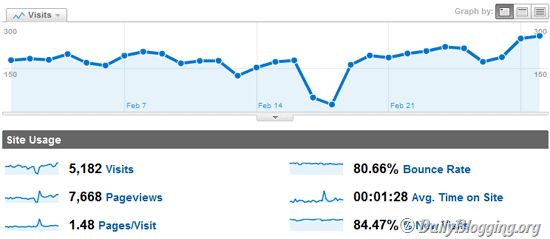 My aim was to touch 200 Unique Visits each day, which is what we've achieved (mostly) after 17th of February. Checkout the image above to take a look at the unique visits received we received. You'll notice two big dips in the middle. That's because while shifting the theme files, I forgot to add the Analytics code.
Traffic Sources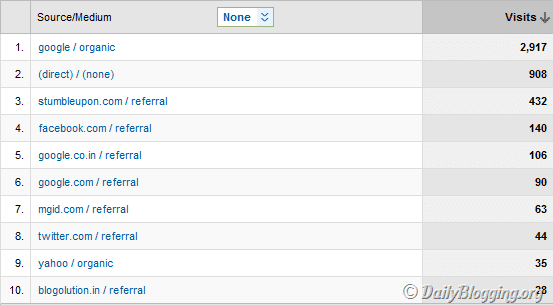 Google had recently made some changes to it's Algorithm and introduced the concept of Content Farming and Site Farming. But It didn't seem to affect us much. Yes, there was a certain dip in traffic for the first 2 days. After that we saw a drastic increase in traffic & mainly Organic Traffic. Also, with Thesis Theme you hardly need to do work on your Site's SEO. I'm happy to see Yahoo in the Top 10 list. This month I aim to bring more visitors from Yahoo.
Alexa Rank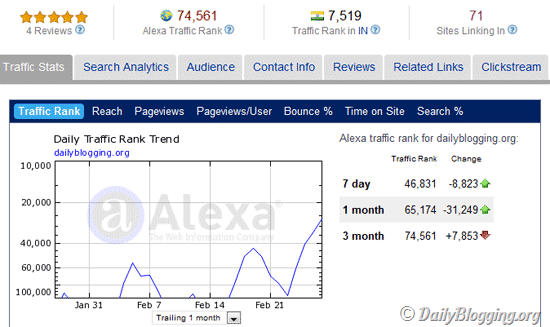 To be frank, I would say that January's Alexa was terrible. It was decreasing each day. Same was the case till February mid. Then came the revival period. We are on the path of regaining the lost rankings. I don't aim to reach any particular rank in Alexa, just because I've stopped believing in it. It depends on many other factors besides your main traffic.
Thanks to all our Readers & Commentators for your precious Support during the hard period. If you are not a part of our Subscription list then you can Subscribe to our RSS Feeds / Daily Updates.
Have you noticed such drastic changes in your blog's Alexa Rankings ?
Share on Facebook
Tweet this post