DailyBlogging Traffic Stats for July 2010
Starting from this month, I will share the Traffic Stats of the previous month & this will be placed in our new category "DB News". In this traffic stats; I will share my analytics statistics, Alexa rank & from the next month onwards will add Compete ranks too (As I have added it's code yesterday).
Incase you missed out any post posted in the month of July, you can always refer to our Weekly Round-ups or the Wrap-up of posts for each month.
Traffic Stats (Google Analytics)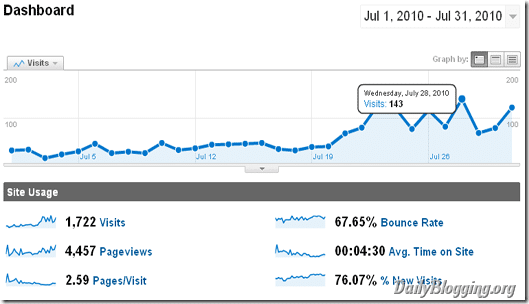 As you can see in the image, I have highlighted the day, I got the highest Unique Visits i.e. on 28th July which was 143. I feel proud to say that, this number (143) has been successfully surpassed in the first week of this month. So, you can see how maintaining a continuity in Blogging is important to build a base for your blog.
Results are bound to come if we work in the right way! I still need to work on the Bounce rate, which is very high. Will test things around & hope to see a lesser bounce rate this month.
Traffic Sources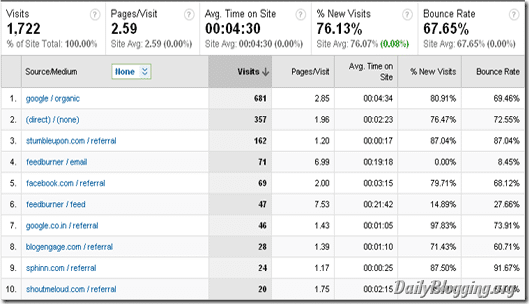 The very first month of DailyBlogging has been a very successful one as I always wanted to get some organic traffic from search engines & I have managed to get some. I feel sad that only Google has dominated the organic traffic source & I wanted Yahoo & Bing too up in the list. This month I will focus on optimizing DailyBlogging for Yahoo & Bing. As you can see, some part of traffic comes from blog commenting & submissions. It proves that those things are vital part of promoting your blog.
Alexa Rank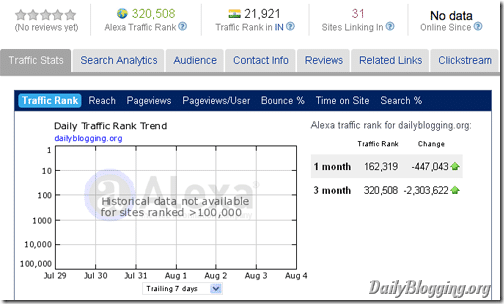 Alexa Rank along with PR has a lot of importance for a blog when it comes to link-exchanges & Selling ads.  Unfortunately Google updates PR of a site about 3-4 times a year. The Alexa rank in the image above maybe updated by the time you read this post. So you can either check it live here or you can see the rank in the Alexa widget on our Sidebar.
Have any suggestion to improve my traffic ? Use the comments section to share it with me.
Share on Facebook
Tweet this post