DailyBlogging Traffic Stats for November 2010
Hey everyone, we are back with the Traffic Stats for the month of November. Yes, we did miss out on the Traffic Stats & the Monthly Wrap-up for the month of October primarily due to my sessionals, assignments, etc. The list is long, but you can understand First year of Engineering is not that easy. But still I managed to write 10 posts in November, covering only important topics. You can read them all when I release the Monthly Wrap-up, either today/tomorrow.
Though I'm not disappointed that I got to write only 10 posts, because those 10 posts brought in a stable traffic which was more than my expectations. Also wanted to let you all know that, we got approval from Google Adsense. A Big thanks to all for helping when I asked help regarding this matter on your respective Answers forums, facebook & twitter.
Traffic Stats (Google Analytics)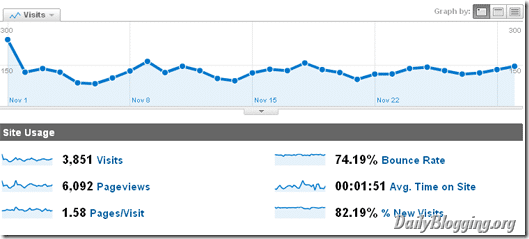 As I said earlier, the traffic was pretty stable. We received 244 Unique Visitors on 1st of November, which was the highest for the past month. After that there was a decline in traffic which stopped declining at 150 & then stabilized throughout the month. My main Semesters are on for a month, though I will be Scheduling things. Hope everything goes the right way & the traffic remains stable, so that I can cope up after my sems.
Traffic Sources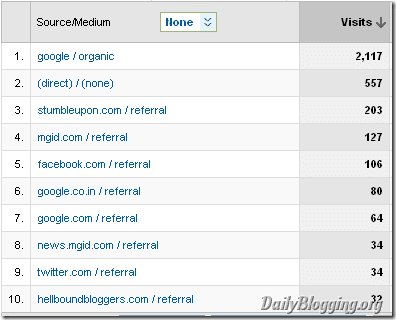 You can see how Organic traffic continues to dominate our Traffic Stats. It's all because of unique content & my SEO. About 50% of this months traffic has come from Google. On some days we got 100+ unique visits from organic traffic alone. That itself indicates the importance of SEO in Blogging. Read the below posts to do SEO the right way on your blog/site.
Worth Reading:–
Alexa Rank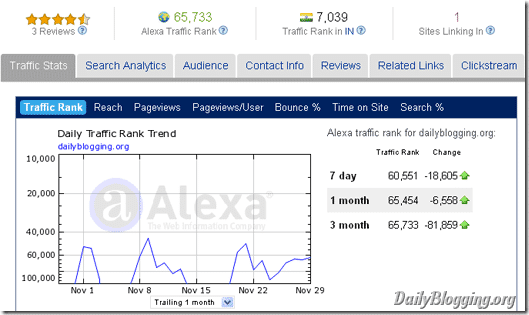 DailyBlogging's Alexa in the month end of September was around 85K. Now it's 65K, so progressed by 20K. Though we have a long way to go & I want it to enter 10K by next November. Hoping that we will succeed in doing that. Alexa depends not only on your day to day traffic, but many other factors. I will write a post about ranking well & the factors associated with Alexa within the next couple of weeks.
As I said, that I got approval in Adsense; 100% Revenue Sharing for Guest Authors is in my mind. Also I will be awarding the Top Commentators (top 2) a 125*125 banner link in the sidebar of this blog. Will make the official announcement regarding both the Revenue Sharing & the Top Commentators Award! soon in a Separate post.
You can Subscribe to Our Daily Updates / RSS Feeds to get the official announcements on 100% Revenue sharing & the Top Commentators Award! in your Inbox or your feed reader.
What do you think about the 100% Adsense Revenue Sharing & the Top Commentators Award! ??
Share on Facebook
Tweet this post