Top Commentators Award : Banner Slots in the Sidebar
It's been a long time since I wanted to reward our Commentators. But due to the redesigning process (Read in Detail : DailyBlogging is now Powered by Thesis Theme) & busy schedule I wasn't able to officially announce this. Finally, starting this month we will be rewarding our Commentators. Yes, you are the one's who make DailyBlogging special, bring in quality discussions & help everyone (including me) to gain something out of it.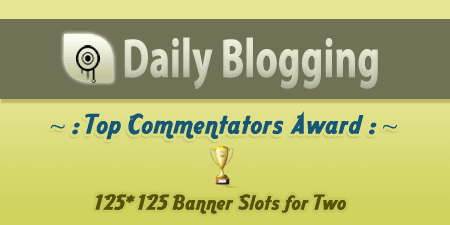 We've already installed the 'Top Commentators Widget' in the footer section, which links to your sites. You must have noticed that, in the redesign process we've increase the number of commentators displayed in that widget from five to ten. But I still felt the commentators deserve more than that. That's the reason why I'm officially Announcing the Top Commentators Award.
125*125 Banner Slot as a Reward
The Top 2 Commentators will be rewarded with a 125*125 Banner Slot in the Sidebar area. That banner stays exactly for a month. Take a note that this is a monthly event. So every month the Top Commentators Widget list will be updated. I will personally contact the winners at the end of each month. Also, please avoid useless comments, just for the sake of increasing your chances of winning the Banner slots.
Update
Due to incessant commenting just for the sake of obtaining backlinks; we've stopped this offer completely.
So Discussion makers be ready with your 125*125 Banner.
Do Subscribe to Our RSS Feeds / Daily Updates for more such official announcements.
What do you think about this new addition ? Do you like it ?
Share on Facebook
Tweet this post