On Tuesday the famous American Business mag INC had announced the 'Coolest young Entrepreneurs List'. It's a monthly magazine which announces similar lists every month. Luckily this time around, 4 Indian-American based entrepreneurs got a chance to be in this list which comprises of 26 other young entrepreneurs. The Young Entrepreneurs List is exclusively chosen among American entrepreneurs; either they are settled there or they are citizens of America by birth. The age limit is 30.
Inc has stated that, they are always looking around for young entrepreneurs who do something unique & achieve money out of it but in the right way. So you can expect the list to consist of talented young people. See the logo of their list, aptly mentioned 30 Under 30.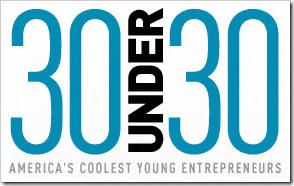 The four Indian-American based entrepreneurs consisted of the following talented youths who have certainly made their mark in the internet world.
#1 Naveen Selvadurai

Naveen is the co-founder of the location-based social networking application Foursquare. Having made such an impact using Foursquare at the age of 28 is remarkable.
#2 Vikas Reddy

The 26 yr old Vikas has co-founded Occipital which develops apps for various gadgets based on 3D Experience. It's trademark is the 360 Panaroma app which was recently released for iPhone. It does look like a small company as it's not much famous. But having a glance at the revenue it has made in a pretty small time, it seems it has a bigger role in offline marketing.
#3 Sachin Agrawal

Sachin has certainly revolutionized blogging & made it simpler by developing Posterous. It allows us to blog much faster & makes life hell easier. He stands as a Co-Founder & CEO of Posterous. He edged into this list being a perfect 30-year-old.
#4 Ooshma Garg

Ooshma is the youngest among the 4 Indian-American based entrepreneurs. She is merely 22 & hails a graduate degree from the Stanford university. Ooshma is the founder-owner of Anapata which is based on an idea of connecting employers and talented job candidates.
Do you feel such lists should be prepared often to encourage budding entrepreneurs around the world ?