This is a guest post by Zocco who writes about discount deals at coupons blog where he regularly shares TRX discount coupons and ereleases coupon codes. Check out his latest blog post where he covers trx training coupon code and ereleases coupon code.
It's never too soon to find a sponsor for your blog. By getting a sponsor, or by selling an advertising banner without tying up with Google Adsense keeps the revenue where it belongs; with you.
Note that when you sign up a sponsor, you must provide them as much value as you can. This means you need to put yourself out to deliver results on the campaign. Advertise the sponsorship to your readers via posts, newsletters, lists, or by positioning it high on your site and so on.
Your chance of renewed sponsorship depends on how much traffic you can deliver to your sponsor.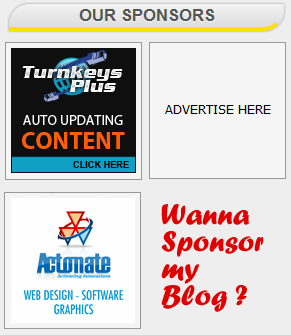 1. Approach Small Companies
If your blog is small, there's no sense in approaching large companies. Try approaching small online retailers, or product sites and companies that specialize in your niche. Try for as many as you can; you will get a few responses and a few successes that you can build up.
Think carefully when you target potential advertisers and sponsors; see if the topics you blog about have relevance to the companies you shortlist. Come up with a list of companies who'll benefit from your blog's niche.
2. Check Out Sponsors Of Other Blogs
If you're not sure whom to approach for sponsorship, check out other blogs in your niche and study their advertisers and sponsors. It's possible that other blogs in your niche are running similar campaigns.
You will learn a lot by following their progress.  I used this trick to get advertisers for my TRX coupons and eReleases discounts blog. This tricks works for sure friends. I must say, use this!
3. Offer Discounted Trials
Offer discounted or free trials to sponsors to let them see their potential benefits by sponsoring you. By doing this, you can benefit in the following ways:
Your sponsor gets a taste of what your blog can offer
Other sponsors might show interest in your blog
Your blog readers will get accustomed to advertising and sponsorship on your blog
You will learn how to put up sponsor ads, understand click to conversions and also earn funds
4. Identify And Sell Your Blog's USP
Email potential sponsors and enquiring if they'll advertise with you is the basic aspect of selling. However, you can make this process more effective by identifying your blog's USP.
What do you have that sponsors might be interested in? A loyal community of core readers? A great deal of search engine traffic for specific keywords relevant to the sponsor? A research-oriented audience checking on future purchases?
Do your homework wisely; find a reason for your potential sponsor or advertiser to align their brand with yours.
5. Run Your Own Campaign
If you are unable to attract a sponsor, think of running your own campaign. Select an aspect of your blog that you can use to drive traffic. This can be a successful post series, a blog category, or even users' subscribe page. Develop banner or button ads based on this and drive traffic to it.
The plus point of this exercise is that you'll be able to test conversion rates from different standpoints. Understand your blog's advertising potential by running a heat map test.
Tying up with BuySellAds, AdvertiseSpace, OIOPublisher and other such middle man agencies could also be considered as an effective method of attracting sponsors to your blog.
Remember, DailyBlogging is also open to sponsors, so hit the 'Advertise Here' banner on the sidebar if you want to advertise your product or service.
What other techniques do you use to attract sponsors on your blog ?