Infolinks, the leader in In-text advertising; introduced it's Related Tags feature. They also mentioned on their blog, that they have tested this feature with some 200 premium publishers or publishers who have been connected with Infolinks & earn a handsome amount from them. The outcome of this was that, most of them (200+ Publishers)  gave a thumbs up to this new introduction.

The much delightful Infolinks on the eve of India's 63rd Independence day, made this feature to all it's publishers. I was waiting to test this one out on DailyBlogging. Finally, added it. You can see it right below the categories & also in the image above. It looks similar to the Adsense Link units.
Why you should add the Infolinks Related Tags ?
Many might have this question in his/her mind. I will cover the answer in just 3 genuine points.
1. Maximum Visibility
You need to add the Related tags on the top of your site as far as possible. This will give maximum visibility to the ads. By this your visitors will obviously look to see what it is. It's just similar to the Adsense link units. The only major different being that, this is In-text ads & they (Adsense) are link units. You can see for yourself, a comparison that has been made by the publishers who were involved in the BETA testing process.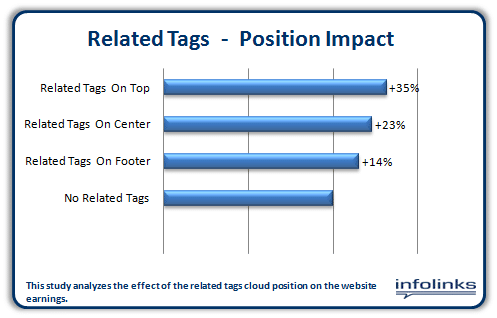 2. Higher CTR
It's pretty obvious that, when you place the Related tags in the top portion of your site or even above the fold then it will a better CTR than the ads placed in other areas. If you don't like them on the top portion, then you can go for the Center portion of your site. But this will reduce the CTR unless you have a very good content & people go through every single line.
3. Maximizes your Earnings
With the above two points (Visibility & CTR) you can be sure that, it will maximize your earnings. Infolinks has collected some analytical data from the publishers who were in involved in the Related tags testing. The image below clearly shows there has been a sudden increase in the earnings due to good positioning of the Related tags.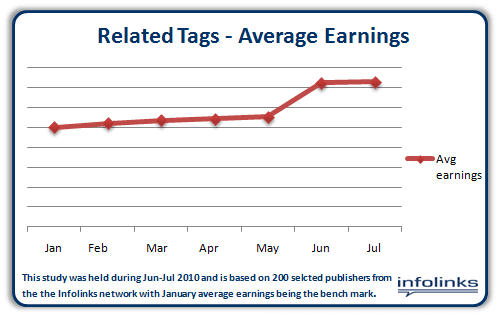 HowTo integrate the Infolinks Related Tags code into your Site ?
You need to have the Infolinks basic code integrated into your site first, in order to integrate the Related tags. I'm considering you have integrated the basic code already.
Copy paste the below code, where you want to show the Related Tags on your site,
<input type="hidden" name="IL_RELATED_TAGS" value="1"/>
Your done with it now. Again I would recommend you to display it on the top portion of your site to get good CTR & to earn good amount of money.
Images Credits ~ Infolinks Metrics
Have you tried the Related Tags out ? If yes, then do share your views on it. Whether you were successful in achieving the 3 points mentioned above!