Earlier this month we saw GoDaddy giving 1$ Domains up to a limit of 10,000 redemptions. It seems that those redemptions are already over and OUT. So to keep everyone happy the domain name company has decided to start a similar discount offer (as it does every month) for the .COM, .NET and .ORG TLDs.
Staying on the top as the number one domain name service provider is not easy for any company. GoDaddy is also facing some stiff competition from competitors in the same market like Name, Whois and others.
So such monthly discount coupons/offers definitely help the cause for GoDaddy and it's market-share. Anyways without going into a deep analystic mode let's take a look at how to get these TLDs at a discounted price of 1 dollar or 53.48 rupees (plus ICANN fees of course).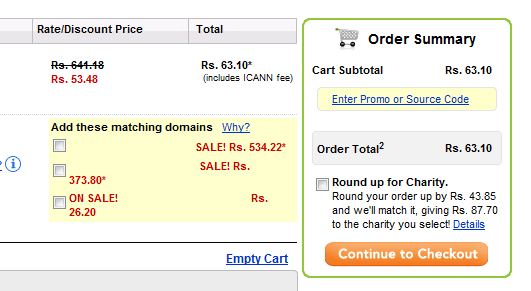 GoDaddy 1$ Domain Coupon Code –
gift1
Looking at the coupon code name gift1, one gets a feeling that it's a gift from GoDaddy to all it's users on the occasion of Christmas (which is nearing).
So register lots of .com, .net & .org domain names quickly so as to avail full advantage of this discount. In case you registered some domains and availed the earlier mentioned $1 domain discount, you are still not out of this race. Your old CCs will still work for this specific offer.
If you are not aware of the domain registration process then refer to this tutorial and replace the code mentioned there with the latest coupon code i.e. gift1.
Hope you enjoy and take full advantage of this 1 dollar domain discount from GoDaddy.