On monday Google celebrated it's 12th birthday with a doodle for which it had to buy special rights from a famous American painter. Now it's time for another giant organization on the Internet to celebrate it's 20th Anniversary. Yes, it's IMDb (Internet Movie Database). Many may not be know it's full-form. But the term 'IMDb' is famous in itself. IMDb was founded in 2010 by Col Needham & later it was acquired by Amazon. On this special event they have made a standalone page called IMDb20 which consists of timelines, lists,etc from 1990-2010.
The 20th Anniversary is on 17th October, but it has already started a countdown for it. 20 years in the Internet world is quite a long period. IMDb has managed to maintain its reputation by providing quality stuff.

Star of the Day
Every day a star's interview with the IMDb team would be taken & it's video would be placed in the Star of the Day section. Todays star of the day is Danny DeVito, an Actor-Director-Producer. You can check the Star of the day everyday by navigating to IMDb20.
Also Read
IMDb Lists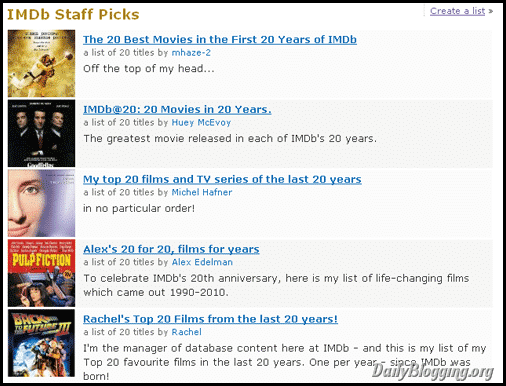 They have collected a huge number of Top 20 lists of movies & television for their readers to choose the best out of  20. You can also contribute by creating your own list. Just follow this link. Create a list. If your list is unique & the staff @ IMDb like it then there are high chances that your list would be put up in the IMDb20 Lists page.
Worth Reading
So watch out for 17th of October when IMDb reaches 20 long years. Probably they may add more good stuffs on the IMDb20 page till then. You can Subscribe to our Daily Updates / RSS Feeds to avoid missing interesting stuff related to the Internet & Technology.
Has IMDb been helpful to you in someway or the other ?