This is a Guest Post by Adam, who has started off internet marketing since year 2004. One of his client who's the webmaster of a website which discuss vacation tips in Kuching, has been successfully drive plenty of traffic to his Kuching's website with his guidance. Find out more on the site – here.
No matter what you're marketing on the internet, YouTube can make your job a lot simpler. It's already proven to be a heaven for people who are trying to get free, targeted traffic to their site through the aid of videos. Yet to really benefit from YouTube, your videos must get lots of views, and in this article we'll be showing you how to accomplish this.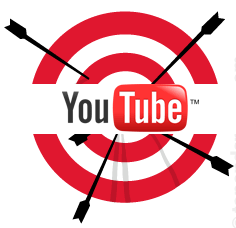 #1 Embed Videos on Your Own Blog
There's no better place to publish your videos than on your blog. Placing videos on your blog will add appeal for your readers, as many people like to watch videos in addition to reading any written content. Your blog can be a doorway to your YouTube channel (and vice versa) if you embed videos in your posts; this gives you another place for people to discover your video content. You shouldn't overlook this idea if you don't presently have a blog; rather, you should consider it one of many good reasons to start a blog now.
It can be very inexpensive or even free to start your own blog, and you don't need any real technical knowledge, so there's no reason not to do it. The way you can integrate your blog with social media sites, it's a great way to promote all of your content, including your videos.
#2 Use Interesting Thumbnails
This is one tactic that never fails to get you targeted attention on YouTube. If you concentrate on utilizing convincing and attention-grabbing thumbnails of your videos, you will notice that a higher number of individuals will sit down and watch your video. You should be certain that your video thumbnails are pertinent to your videos, on account that Related Videos produces more than 70 percent of views to videos. Conversely, this definitely does not mean that you should be tricking or hoodwinking your potential viewers by using a thumbnail of your video that is totally unrelated.
On YouTube, the last thing you would want to do is ruin your reputation by decreasing the confidence of your viewers. In every way possible, you need to be truthful and obvious with your methodology because your viewers will be pleased you and your efforts, instead of accusing you of breaking their trust in you. For social media sites, such as YouTube, acquiring the trust of your target audience is incredibly important.
#3 Allow Embedding
A mistake that is commonly made by YouTube marketers is that they limit the spread of their videos themselves by disallowing embedding. If you decide to not let people embed your videos on their blogs or website then you will evidently be decreasing your chances for success and putting a halt to the number of views and amount of exposure your video gets. Attempt to be at ease with the thought that some of your viewers will like your video so much that they want to share it through their website or blog.
Additionally, as a way to let you make them more interactive, you should permit your viewers to make comments, as well as rate your videos. In order for your viewers to actually help in getting the word out about your videos, you should make sure they are amenable and open. YouTube and viral marketing team up, so why would you wish to minimize this mishmash?
Finding long term success with YouTube boils down to how popular you can get your videos and garner targeted views on a regular basis.
If you liked this post on getting targeted viewership on YouTube then Subscribe to Our RSS Feeds / Daily Updates.
So what's your view on getting more views for your YouTube videos ?