It definitely seems like Microsoft has got very much excited after hearing some positive reviews of it's pet child Internet Explorer 9 (IE). It's good to be excited but over-excitement ain't good. And that's exactly what Microsoft has done by creating a separate website to take a dig on IE haters.
The Browser You Loved To Hate covers highlights, testimonials and explains why IE 9 is good. As a designer/developer I ask Microsoft again, REALLY ? IE 9 still has so many basic drawbacks in terms of CSS styling which Microsoft should look to fix first.
Well I have to accept that IE 9 is definitely better than the older versions of IE. But that's expected from a big company like Microsoft, isn't it ? Yes the Debug function is better than any other modern browser, but a web programmer would ask 'When do we debug the site ?'.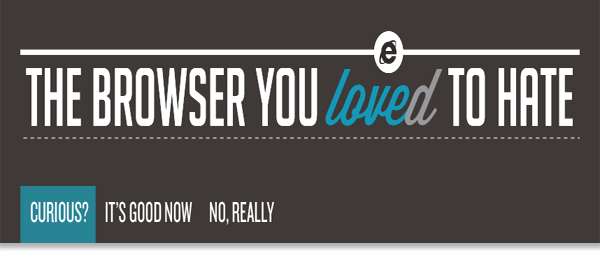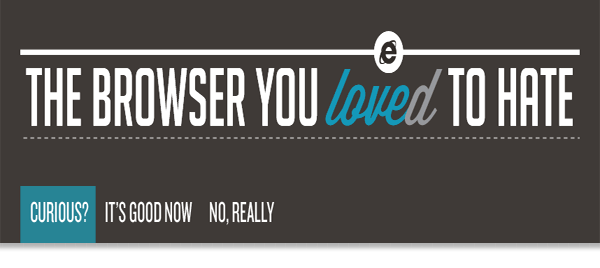 The Browser You Loved To Hate is a part of the promotion strategy which Microsoft has adopted in order to recover the lost market-share to rivals Chrome & Firefox.
An amazing thing about the site's design is that, it is majorly made up of images instead of normal text (even the About text on the homepage). Probably Microsoft thinks we designers are stupid to not see any bug/error in it. Seems like a pure PSD2HTML/CSS product.
Anyways, keeping aside my huge grudge for Internet Explorer, enjoy the promo video made by Microsoft to describe 'The Browser You Loved To Hate' site.
The Browser You Loved To Hate – Video
Talking about Internet Explorer, I liked the experience of IE10 on Windows 8 Consumer Preview. So I just hope Microsoft fixes those blatant drawbacks very soon.
So what do you make of this 'The Browser You Loved To Hate' site & the promotion strategy of Microsoft ?