DailyBlogging – Wrap-up of posts for August 2010
So it's two months since we have been actively blogging. Like the weekly round-ups which covers posts which people may've missed during a particular week; the monthly wrap-up does a similar job by having a compilation of the whole month's posts at one single place.
This past month we have covered exactly 32 posts which is the same no. of posts covered in July. Yesterday when I was posting the traffic report for August, I thought that this month I must have covered less number of posts. But we have managed to cover the same number of posts.
Hope we could post more quality one's this month. For the wrap-up I won't be including the weekly round-ups like the last time.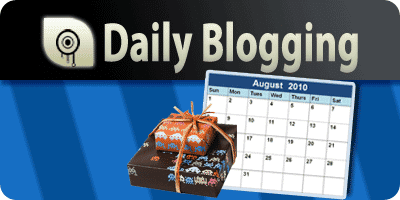 ---
* Posts for August 2010 *
---
Social Media
SEO
Technology
HowTo
News
Software
Internet
Telecom
Advertising
Internet Marketing
Web Hosting
WordPress
DB (DailyBlogging) News
---
* Reader Engagement *
---
Comments posted by users on our posts right from the start of DailyBlogging till today. I'm pretty delighted on getting over 600 comments for 70+ posts. Thanks to all the commentators, people who share my posts. This blog wouldn't have achieved such a success in a short span of time without you guys.
Also, look around for the Top 5 Commentators widget on the sidebar. In a short while, I will be coming up with some awards for those commentators.
Subscribe to our Daily Newsletters to ensure you miss none of our posts.
Have something to say about the posts posted in August ? Do you have some tips for me ? I would love to read your views/tips as comments!
Share on Facebook
Tweet this post