First of all without going on with the topic, would like to inform all my readers that it's basically a tremor. Not a big disastrous earthquake. So stop panicking & continue reading. It's said that the earthquake which shook Fuji with a Richter Scale of 5.9 has come to Mumbai but with a much lower magnitude of 2.5 on the Richter scale.
Yet there are no confirmed reports from officials of the Fire department in Mumbai. But you can confirm it as residents of Mulund (Suburban area of Mumbai) including me have felt it around 1 AM – 1.20 AM.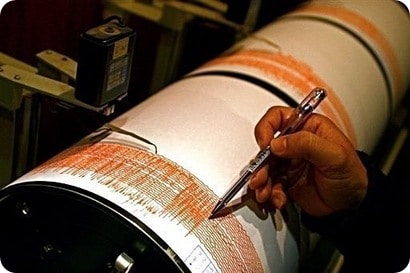 <Image Credit>
I was watching a video on YouTube about link-building when I experienced a small tremor. Firstly, I didn't realize it & took it casually. But when I turned to the HootSuite tab then I found out some reactions about an Earthquake in Mumbai. Found it on @rajupp's timeline. So searched about it & many people from my area confirmed on Twitter & Facebook that, they too have experienced it.
You can refer the Richter Magnitude scale which gives you an idea occurrences, effects of earthquakes of different magnitudes. As said earlier the Richter scale of this earthquake was 2.5 (So it a Minor Earthquake) It's written in the Richter Magnitude scale that it's not felt, but it did feel.
First Tweet
The first tweet alerting about the Earthquake was tweeted by Jonathan Pimento
---
[blackbirdpie url="http://twitter.com/Grub6/status/21339632155″]
---
Reactions from other twitter users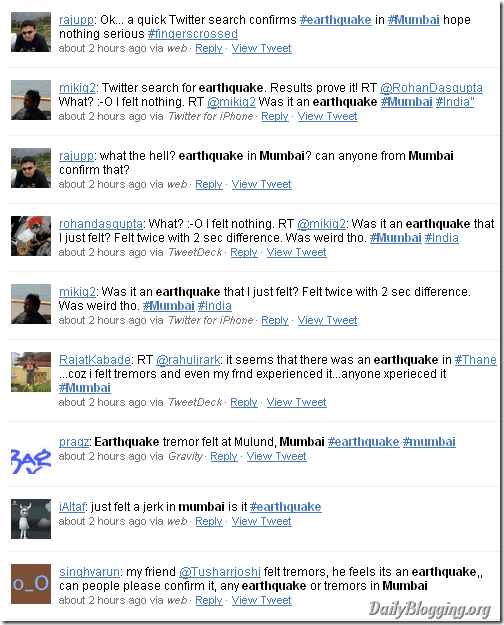 Also track what people are saying about this on #Mumbai Earthquake
First spotted by Blogern & reactions from local people taken by journalists on Mid-Day
Avoid panic. Pass on the news to others, but clearly state that it's the one which is just felt but doesn't cause damage. Leave the exaggeration part to the news channels!