After we moved to Thesis, I reduced my visits to Google Webmaster Tools because I knew Thesis theme would do the job of SEO for me. But to my surprise, when I checked in today I found that there was a moderate duplication problem. It listed around 286 Duplicate meta-tags under the 'HTML Suggestions' section. Then I performed a Google search for,
site: www.dailyblogging.org "ReplyToCom"
With that search everything became crystal clear by itself. But it wasn't a great deal of worry for me, because ReplyToCom Spam Bot is just a parameter. Two years ago Big Daddy 'G' had added a section under the Settings page of GWT called 'Parameter Handling'. With this feature you can prevent content duplication by just forcing Google to Ignore the parameter while indexing the pages of your blog. There are two more methods with which you can fix the ReplyToCom Spam Bot Issue.
#1

Configure the Parameter Handling Section in GWT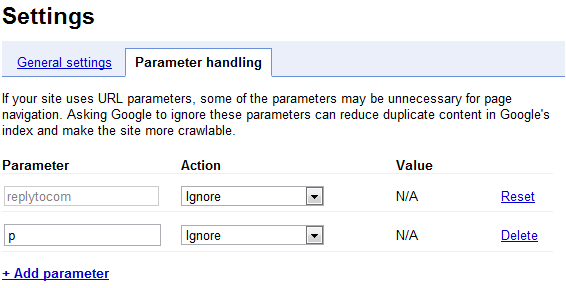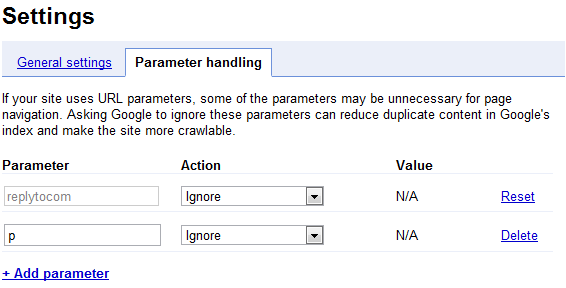 Open your Google Webmaster Tools Dashboard.
Expand the 'Site Configuration' menu on the left hand side of the Dashboard.
Click on the Settings option & go to the 'Parameter Handling' Tab.
Under that you'll notice a the 'replytocom' parameter (Refer the above Image).
In the Actions column you'll find a dropdown selector.
Select 'Ignore' option & hit the save button.
From now on Google will be forced to Ignore the parameter 'ReplyToCom' & you'll be free from Duplication issues.
#2

Use the ReplyToCom Redirector Plugin
For Non-Techies, there is a ready made plugin available at the WordPress directory for fixing this issue. The Advantage of ReplyToCom plugins is that, you won't require to configure it. Once installed it'll start it's work. It will redirect the url (with parameter ReplyToCom) to the original url (i.e. the url of the post). Click on the hyperlink at the end of this para to Download this plugin. [LINK]
Read :–
I hope with these solutions you can easily solve the the ReplyToCom Spam Bot problem & thereby prevent meta-tag as well as content duplication.
If you liked this post, then Subscribe to Our RSS Feeds / Daily Updates.
Are you facing Duplication Issues on your blog due to the ReplyToCom Spam Bots ?