Did you ever know that Facebook has this unique feature of memorializing accounts ? I frankly, didn't know about this until I digged into Facebook's FAQ thanks to Apoorv. Memorializing is a way to mark a dead person's (deceased) profile as dead. This process sounds very similar to marking a profile as spam, but literally it isn't like that.
Memorializing is more of report-with-proof kind of thing rather than just clicking on a button and reporting an account dead/deceased. And to be fair enough, that's the way it actually should be in order to prevent misuse of this feature.
Such a feature is actually a boon to both the deceased family as well as Facebook's servers. The deceased's family would obviously want some privacy and memorializing does exactly that. It set's the deceased user's profile as private so as to ensure that only close confirmed friends and family of the user are able to view it and post messages in remembrance of their lost one's.
Memorialize Facebook profile of Deceased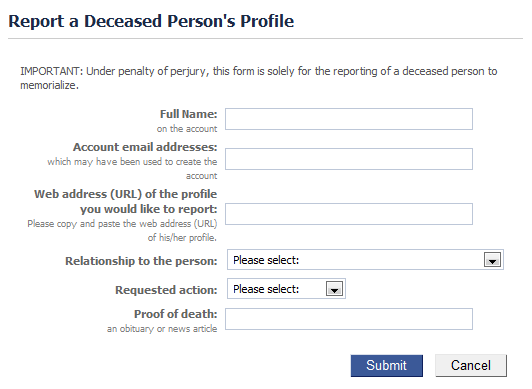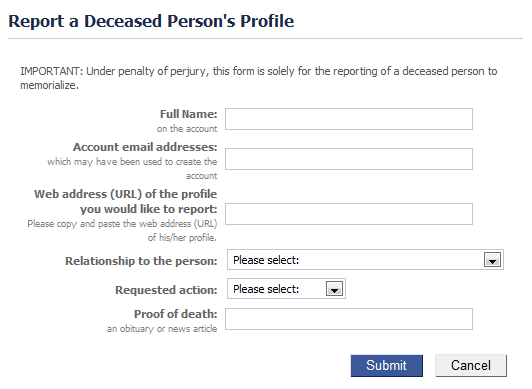 For Memorializing a deceased user's profile you just need to fill out this form correctly and submit it. Make sure that you provide some valid documents/images in the Proof of Death field. Don't submit the form with false information in it as legal action is viable in this case.
Remove a Deceased user's Profile completely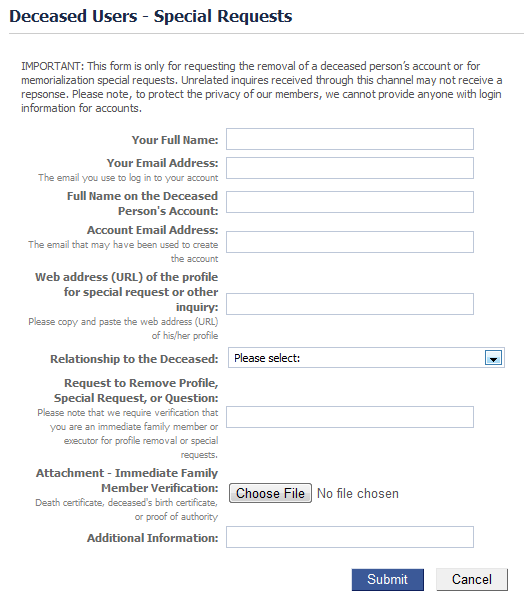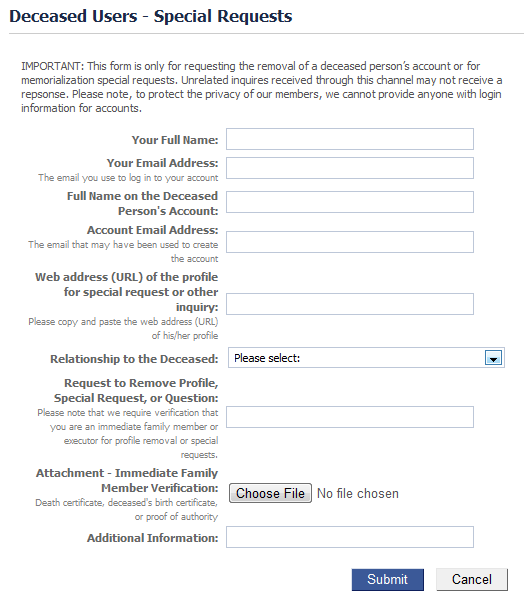 Facebook also provides an option to remove a deceased user's profile completely along with all the related content, information, etc. But for that, the immediate family member has to fill another form which expectantly demands more documents (for verification).
The documents that are accepted as Immediate Family Member Verification are as follows,
Birth Certificate of the deceased user
Death Certificate of the deceased user
Proof that you are an immediate family member or legal representative.
Remember that both memorializing and removing a user profile will prevent it from appearing in Suggested Users section, Search results and other activity sections of Facebook.
I know memorializing was introduced in 2009 itself, but I'm publishing this post now because I wasn't aware of this feature till now & many are still in the same boat as I'm.
Our Facebook page hasn't been memorialized, so you are free to like it.
Don't you think other Social networks should also adopt this policy of memorializing/removing a deceased user's profile ?