This is a Guest Post by Leonhard Widrich, who is the developer of BufferApp, a tool which lets you to tweet effectively.
Overtime, I realized the importance of Twitter & how much it contributes as a Social site.
This quote by Mani from one of his recent blog posts is a spot-on thought about how our user patterns on twitter are always changing. One can also only agree to an increased seriousness we nowadays find on twitter. The picture of a procrastination tool we waste our time with is certainly no longer a current one.
In order for us to make the most of twitter, everyone has developed ways and techniques that work best. I want to share a few thoughts on how I achieve higher engagement and clicks on my links on Twitter. Hopefully you find them useful.
Don't follow Twitter routines blindly
When we use various, simple twitter features such as ReTweets, @mentions or #FF it is very easy to fall into the trap of doing what everyone else does. Simply clicking the ReTweet – button or sending a #FF tweet with loads of names in it does not provide much value for followers.
Therefore I prefer to make RT's personal, by adding why I ReTweeted this tweet. Also, don't mass follow- Friday, simply because you feel you have to. I try to think carefully and then only give credit to one, two or at most 3 people alongside explaining why I suggest them to be followed to your followers. If I have more than one #FF to give out, I split them up in several tweet.
Worth Reading :-
Additionally, whenever you find yourself tweeting an interesting article, don't just tweet the title with the link. Explain, why you think this is worth reading by adding a quote from the post or a short summary. And finally, which is particularly overlooked by many, add the author's name at the end. Give them credit and let them know you liked their post. You will be surprised which effect doing so has.
Be efficient and produce better content
Following the advice from the above lines you might find yourself quickly spending a lot of time on twitter during the day. If you don't want to commit to that, I want to introduce Buffer to you, a new tool which intuitively helps you to tweet smarter and in a less time-consuming way.



Whenever you come across an interesting article, a quote or other shareable content you can now add it to your Buffer. This makes sure that instead of posting tweets immediately to twitter, they are evenly spread out over the course of the day.
All you do is click the Chrome Extension icon or the bookmarklet. Buffer suggests a tweet according to the page you are on. You can edit it or hit "add to Buffer" straight away. Here is how it looks,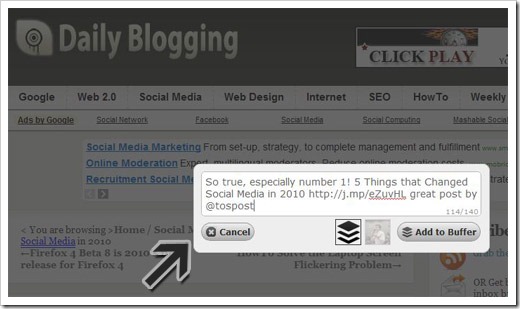 Many people have maximized efficiency using Buffer by filling up their Buffer with tweets every morning they check the news and browse their RSS reader. This helps them to share genuine content without any additional effort to their daily routine. Just click the Buffer Icon and add to your Buffer, whenever you like something. That's it.
Since you are then tweeting evenly spread out over the day, people will engage with you more often and therefore you can really focus on the interaction. You can also checkout the other Top 5 Social Media apps which will help you to keep an Eye on Social Media.
You can also Subscribe to Our RSS Feeds / Daily Updates if you don't want to miss interesting guest posts like this one.
Let me know which techniques you have to keep up with the "latest" twitter.