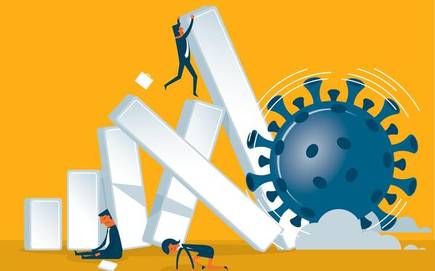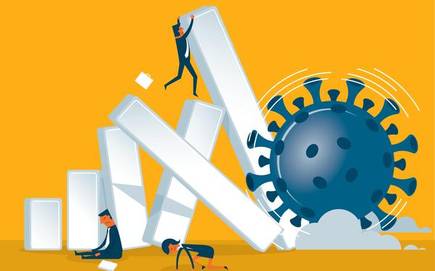 Covid-19 is an infectious disease caused by a coronavirus that was first detected in China and has infected people in 188 countries. The outbreak of coronavirus has disrupted the global supply chains.
99% of the businesses in the United States are small businesses and they employ about half the US workforce.
According to a survey, more than 7.5 million small businesses are at risk of closing down. Coronavirus has been shaking up small businesses and consumer behavior all over the world.
Every part of our lives is affected by the Coronavirus pandemic.
The health of the economy is indicated by the statistics on the number of business creations and closures.
Now
Let's dive into the statistics of COVID-19 impact on the economy.
Risks involved in small businesses
70% of small businesses are concerned about the prolonged closures due to financial hardships. And 58% of the businesses are worried about closing permanently.
(clrvw)
Of the US nations 30 million small businesses, 7.5 million small businesses are at risk of shutting down permanently if the COVID-19 continues unabated.
According to the Main Street America survey, two-thirds of small businesses are ready to shut down in the coming five months.
35.7 million residents of America employed by small businesses are at major risk of unemployment due to COVID-19. Around 90% of the businesses in America have fewer than 20 employees already.
Coronavirus has worsened the economic conditions and 38% of the businesses had felt to lay off the workers in business centric places like New York.
65% of the small businesses are worried about having to close again or stay closed if hit with a second wave of COVID-19.
According to a survey, 73% of small businesses are concerned about experiencing significant declines in domestic demand.
Coronavirus has led very much harm to small businesses. 44% of small businesses are under a potential recession and have taken no measures to get out of the pandemic.
86% of small businesses are fully or partially open from the month of June.
According to the Yelp Economic Average report, permanent and temporary business closures are at 132,580 currently.
(Yelp)
60% of businesses shut in the US from the start of the COVID-19 pandemic won't be re-opening as of Yelp's report.
(cnbc)
According to a report, 163,735 US businesses have shut as of August, a 23% rise from July.
(pymnts)
As of August, 32,109 restaurants and 6,451 bars were closed due to COVID-19. And 61% of them are slated to never reopen.
Impact on small business Revenue
COVID-19 has an extraordinary effect on world commerce. Global retail sales are predicted to be declining by an average of 9.6%. Forrester also predicts that globally there could be a loss of $2.1 trillion by the end of 2020.
According to Korn Ferry, 54% of the organizations have a serious impact on their annual revenue. Businesses have declined by 15% due to coronavirus.
According to the NFIB survey in June 2020, 31% of the owners had low sales in the previous three months, while 7% of the businesses reported higher sales last year.
As in September, 65% of the respondents from small businesses have reported a decline in revenue and some of the firms are yet to experience the effects of COVID-19.
Coronavirus has an impact on the economy and will ripple for years. Americans around 3.28 million have filed for unemployment benefits in March due to the induced layoffs surge around the US.
According to a survey, nearly three-fourths of the business owners are worried about employees as one of them could lose their job. 85% of the businesses with few employees said that one or more employees are at risk of being laid off.
(cnbc)
41% of the organizations are ready with options to reduce the overtime pay.
53% of the businesses have already stopped hiring and 20% of them are ready to consider it due to the COVID-19 pandemic.