This is a Guest Post by Anna Watson who has a great  experience in Laptop Repair in Ztronic industry. She is writing on behalf of Paul Adams and likes computers, video games, gadgets, movies, television, blogs, and web design.
If you are a busy professional, always on the road, then your laptop should be your best friend. But have you ever considered a portable computer from a business perspective.
So you should look at the business perspective when buying a laptop for helping you out during your business hours.
A Business Laptop should feature the following features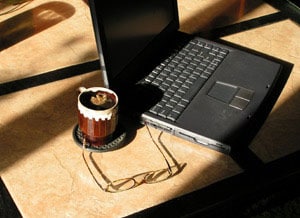 Travel – As a busy professional, travel tops your list. This means that you and your laptop would travel far and wide. This condition would be a test of the durability of your machine. You need a solid, strong, sturdy laptop that is portable and at the same time travel takes does not burden it.
Protection with Durability – Busy coffee sessions are common for employers/entrepreneurs. This raises the possibility of a spill of beverages and thus can be a big problem to tackle.  Additionally the in between snacking take its toll on the laptop too.
Efficiency – Quick and real-time redemption is what would make a laptop – a business laptop to be precise. In the midst of tight deadlines and productivity issues, your laptop should be just as productive. Frequent crashes, slow processing and freezer have no place.
Storage and Security – Huge amounts of confidential data stored on the laptop. This requires the laptop to have a storage space.  Additionally, confidential data must be protected.
Battery – While you are travelling, you do not have the privilege to charge your laptop. This is when you need a great battery life, one of the chief characteristic of a business laptop.
Connectivity – This is the advanced internet era. So connectivity is an important issue for business. Therefore, the laptop should have the provision of easy internet access and a strong wireless setup.
Maintenance – Your laptop is a fighter, but sometimes the laptop can give up. If this situation occurs, you should have immediate access to a credible and professional laptop repair services.
Based on the above features, a list of  Top 10 Business Laptops are enlisted below.
1. HP Elite Book
2. Acer Travel Mate
3. Sony Vaio
4. Lenovo ThinkPad Edge
5. Apple Mac Book Pro
6. Toshiba Portege
7. Dell Inspiron XPS
8. The HP EliteBook
9. Samsung Q430
10. Dell Vostro
Refer our post on Laptop Screen Flickering if you're facing that problem. Also Subscribe to Our RSS Feeds / Daily Updates.
Would you like to add some more features which you consider is a must for business laptops ?