Google Play store has hit 25 Billion app downloads and on this special occasion the Android Play store has decided to offer a straight 75% discount on some of it's apps.
The 75%  discount equals to 25 cents or 13.37 Indian Rupees (₹). If you can recollect, Google had put up a similar promotion offer on the eve of 10 Billion downloads at the end of last year. The price of apps were cut to just 10 cents (5 Rupees)  the last time around.
If you are a avid Android gamer then you'll definitely end up buying some of these discounted Google Play apps as 7 out of the 13 apps are games – viz Cut the Rope: Experiments, World of Goo, FIFA 12 by EA Sports, Shark Dash, Flick Nations Rugby, Dungeon Village & Mini Motor Racing.
The rest of the discounted Android apps include doubleTwist Alarm Clock, Sketchbook Mobile, Paper Camera, The going to bed book – Boynton, Color and Draw for kids phone ed, Color and Draw for kids HD.
Note, the discounted apps keep changing every day, so keep a check on this page.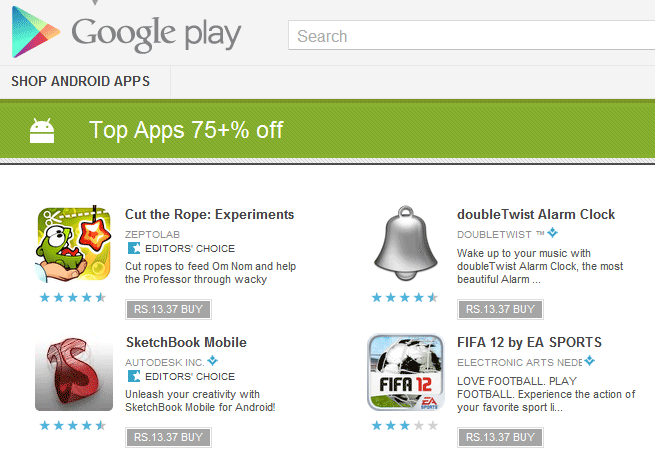 Most of these apps are either from top-rated developers or they are a part of the Editors' choice collection. So in case you are looking for any of these apps or an alternative to another app which is costlier then make maximum use of this 75% discount offer.
If you ask me which app I would've bought then my answer would be FIFA 12, but since my Android phone doesn't support this particular game there is hardly any use in buying it. Anyway, it is a gamers' delight.
 So let me know which Android apps did you purchase from Google Play during this discount period ?