There is already a buzz about the 10 Billion Downloads discount offer on the Android Market. Apparently that's the reason behind this 10 cent best-buy price if one could call it.
One thing which makes this discount offer or sale different from others is that this discount isn't weighed percentage wise. Rather they've straightforwardly cut the base price to 10 Cents or 5.13 Rupees to be exact (conversion from USD to INR).
So basically the Android Market is featuring 10 Apps with a buying price of 10 Cents or 5.13 Rupees.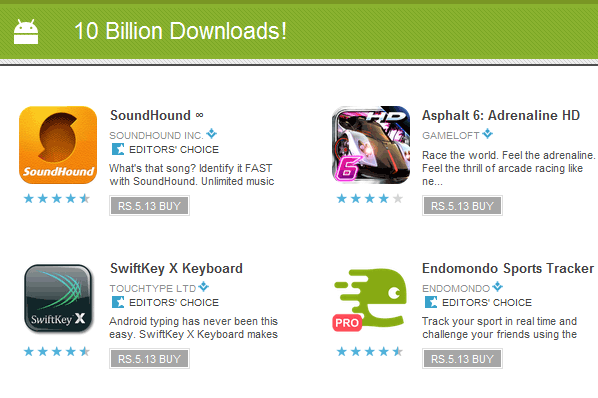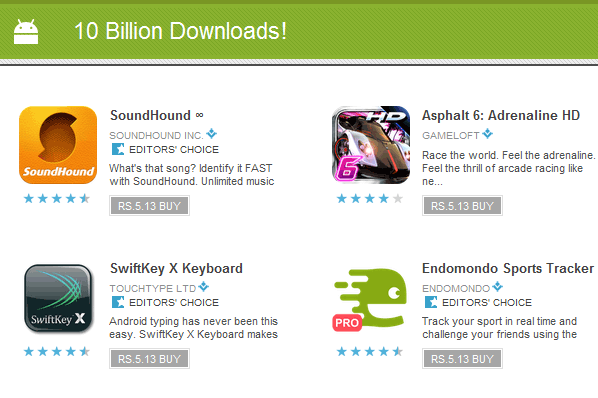 I'm clueless about the end-date of this brilliant offer from the Android team. But if we apply some common sense (and assume that Google applied it as well) then this promo offer should go on for 10 full days. Regardless of that we all should get one or two apps instantly as such offers don't come yearly (hope they did).
The discounted app list include the following:
Soundhound
Asphalt 6 HD
Minecraft
Swiftkey X Keyboard
Endomondo Sports Tracker PRO
Great little war game
Sketchbook Mobile
Fieldrunners HD
Color & Draw for Kids
Paper Camera
Let's take a look at the top 3 Android Apps which you must grab before the 10 billion downloads offer ends; from the Android Market.
Swiftkey X is one of the popular most Android app when it comes to changing the default on-screen touch keyboard. When there are 30,000+ reviews/approvals for a paid app then it's a given that you purchase this app now. This app also has the Editors' Choice stamp, so probably it's worth a try.
Sketchbook Mobile is another app which holds the Editor's Choice stamp, rather expectantly as it's developed by Autodesk. A 9.5 mb file size is pretty decent for a graphic/design app. The only disadvantage of this app is it's demand for high resources.
The recommended Android resources include a 1 ghz processor and 512 mb RAM. That sounds a little too much but remember that this ain't a game or productivity app.
Asphalt is THE popular game when it comes to mobile devices regardless of it's operating system. When I got my Android the first app that I searched for, in the Android Market is Asphalt. But to my dismay it wasn't free (plus it wasn't even compatible with my device) and it's alternatives weren't as fascinating as I would've wanted them to.
Since this version of Asphalt is in HD, the resources would be pretty high and the app would work on selected devices. Among all the other 9 discounted apps Asphalt races ahead (with boost) when it comes to the 1 Star rating.
The main reason for this is Asphalt's incompatibility with some major players in the Android arena.
Note: You can purchase apps from the Android Market with only certain Credit Card or Debit Card services like VISA, MasterCard, Amex & Discover. Maestro Debit Cards won't work here as some banks like the SBI offer Debit-cum-ATM-cards without an Expiration date & CVC.
So are you purchasing any Android Apps during this discount offer? Secondly, how many apps have you previously purchased from the Android Market??