Did you get a glimpse of what the title meant ? It means that BMTC (Bangalore Metropolitan Transport Corporation) will now provide it's passengers access to Internet & information containing Softwares. Currently, this service is embedded only in the Vayu Vajra bus service which plies from ITPB (International Tech Park Bangalore) formerly know as ITPL to the Bengaluru International Airport.
We have seen the use of technology in buses earlier. For example the buses in Mumbai run adverts on a small flat screen. Though the noise made by the repeated advertisements is crappy. But now you can stay connected to your Social friends using this Internet.
Worth Reading: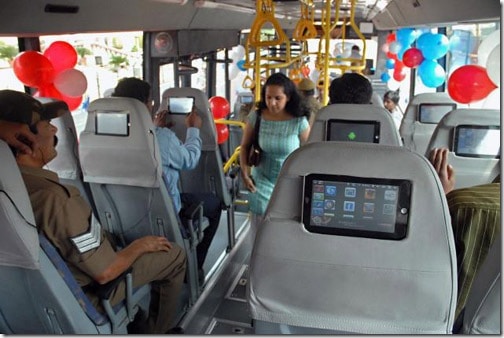 In today's world of Social Networks it's very important for us to stay online most of time. For making ICE On wheels — An initiative to provide Information, Communication & Entertainment; a success BMTC has teamed up with a Bangalore based Tech firm EAFT Technologies. The main of this project is to ensure that most people in the city use Public transport to travel anywhere in the city limits rather than opting for a public vehicle.
Surprisingly the BMTC has stated that no extra charge would be taken from the travelers for this. The Internet access would be given in the form of Wi-Fi's which would be setup at custom locations in the vicinity of the route between ITPB & the Airport. So you can expect uninterrupted Internet access the next time you travel in that bus.
Also,  the passengers would be provided with Software's containing Flight Information, facilities to Book tickets & do Online check-in's while commuting. Now the customer response to these new features is gauged & on the basis of that the BMTC will decide whether to start running similar buses around the city for different routes or to scrap this idea.
For more such Local News, tech related information & Social Media updates, Subscribe to our Daily Updates / RSS Feeds.
Do you think such Buses will last for a long time when there is so much rush in the peak hours ??