[ad#info]
Kapil Sibal, The Union Minister for Human Resource Development (HRD) in India today unveiled the cheap and usable laptop for college students and professors at a meager cost of  `1500 (1500 Rupees). This development has gone forward with improvements in certain areas as compared to the `500 version which had to be used with a projector. It is said that it is an upgraded version of the same piece which was announced at the start of last year. It will offer the basic functionalities added to the touch screen function and will act as a computing device but will have less memory space and speed. The above disadvantages of less memory and speed are to be expected from a low-cost laptop which is meant mainly for connectivity and educational purpose.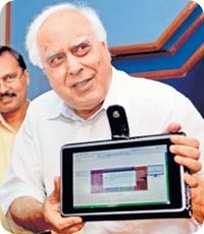 <Image Credit>
The main purpose of this laptop is to meet the needs of poor students thereby providing them with the basic configurations which will help them in their college projects.The minister has also stated that this laptop won't be available to everyone but will only be distributed among college students and professors.
Moreover, the distribution scheme is still not fixed on what basis the students should get these laptops. At start the cost will be fixed at 1500/laptop. But it is expected to go down to 500-1000/- if there is excess demand from the students thus making it much cheaper.
Features of this low-cost Laptop
Powered by Linux Operating System
Multimedia Content Viewer
Access to Data with software's like Open Office and SciLab.
PDF Reader with search function
Media Player for Stored as well as streamed Media
Upgradable Firmware
Embedded Webcam
Cloud Computing
Wi-fi
Internet Browser with flash plug-in
It is expected to be available by the start of 2011. Hope to see it releases soon enough so that we can get connected!
# Also Read : ViewSonic shocks the market with 27 Inch HD Monitor
So how does such a low-cost laptop sound ? Share your views using the comments section.