Late yesterday night, Skype released the second beta of the 5.0 version & updated on their blog that it has the 10 way video calling feature enabled in it. As it's still under beta (second stage of development) it's being said that Skype 5.0 beta 2 will have some bugs for us to deal with.
Also, the quality of voice & video calls have been improved to a large extent. This would allow friends, bloggers, clients & especially entrepreneurs to connect with each other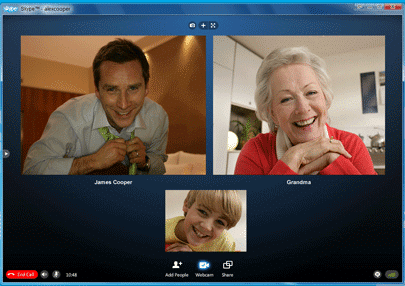 Well, when you want quality that too in video calling which would involve 9 other people to come together & render the same quality; then the ask is too much. Perhaps, you can still manage to try it out in Skype 5.0.
Also, one important point they have clearly mentioned is that of the System Requirements needed to make sure all these resource consuming features run properly.
Specially the 10 way group video calling feature (because that would consume at least 40-50 % of the resources consumed by Skype 5.0). The requirements mentioned by them are pretty much on the higher side.
Requirements to run Skype 5.0 Smoothly
#1 System Requirements
Minimum Requirements :- Intel Core2Duo (2 GHZ CPU)
Recommended Requirements :- Inter i7
#2 Internet Requirements
Minimum Requirements :- 1 mbit/s Connection
Recommended Requirements :- 5 mbit/s Connection
They have also said that the quality of the 10 way group video calling would be determined by taking into account, the speed of the slowest participant. This would ensure that the resources used for the group video calling doesn't exceed the slowest participant's resources & hangs up the conf window.
–> Download Skype 5.0 (Second Beta)
So, if you got those requirements then goto the above link & try the group video calling ASAP.
Do you think the ask (in terms of requirements) is too high for a normal internet user ?