This is a guest post by Mark who is very much involved in this concept of A/B testing and also offers various methods to perform this test effectively.
Designers know the feeling of having art directors, copywriters, and their bosses scrutinize every last detail of their work. And while constructive criticism is part of the design process, there's more efficient ways your business can make a difference in your marketing efforts that relying on pure opinion.
This is why many are jumping on the A/B testing bandwagon.
A/B testing pits one design against another in determining the best strategies in terms of marketing. You test everything from search ads to sales emails and text copy in this formulaic method that almost guarantees an increase in subscriptions, sign-ups, and sales.
While this success won't happen overnight, in this article I covered a few aspects of successful A/B testing to conduct over a period of time to ensure successful marketing.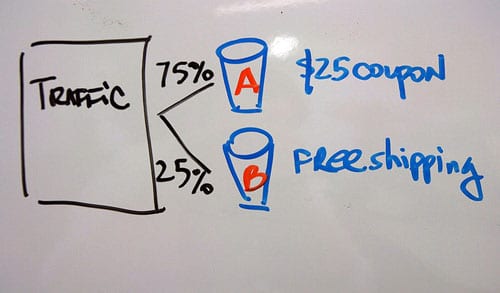 Small changes make a Big difference
This can apply to all aspects of your blog or offline marketing effort such as emails, but this is not more true for call to actions. Your goal with the call to action is to make it sound friendly and exciting enough to elicit an immediate response from the user.
Visitors are more discerning than they were in the past, and they don't want to commit to something they don't feel safe and secure about.
Constantly test your call to actions to see what words get people to try it the most often. You may find "Sign up Now" or "30 Days Free" either sound like a big commitment or has the user focusing on the bill at the end. Alternative options may be:
Immediate Download
Watch Our Tutorial
Donate Today
Find Out More
Get a Free Quote Today
See It In Action
Limited Availability
Whatever the case, be sure to include action phrases to inspire the need to act in the user's mind.
Test often
The only way to see significant results in you're a/b testing efforts is to test frequently. You'll either have no result, a negative result, or a positive result as the outcome of your tests. They key to reaching the results you're looking for is to test regularly in achieving increased sales and/or conversions.
If you've just launched your site, it's a good idea to get started testing as early as possible as the results you receive form these tests can prevent you from losing sales in going forward.
When Am I Finished?
It's not the easiest to determine when to stop a split test – you don't want to terminate the test too early and lose meaningful results you would have received by waiting longer.
Testing too long could also mean the loss of sales had you switched to the new design element earlier. To determine how long to test, use a calculator like this one.
This number will vary greatly from site to site. If you run a high-customer volume store you should test until you receive around 70 conversions for one variant. Conversely, if you have a low-volume store with high-value items, it's best to aim for 20 conversions.
Of course, If your blog receives an upwards of 1 million visitors per month, you can switch to multivariate testing.
Conclusion
You should never underestimate the skills of the designer and the strong, unified design vision they come up with. A/B testing can be used as a single data point to affirm that want you are using is making the most out of your marketing efforts.
If the design is making the client money, you know your mission has been accomplished. An A/B Testing software can make these tasks a lot easier as well. This article was meant to detail the areas you should address in making this achievable.
If you use A/B testing, how long do you conduct tests for and how often do you run them? Let us know in the comments!