The SOPA (Stop Online Piracy Act) has brought in lot of views from big names of the Internet. A few days ago GoDaddy, the domain giant said on it's personal blog that it supports the SOPA. Read the entire blog post here.
This statement from GoDaddy was dumped by many in the social media sphere. The SOPA opposition(s) have attacked the domain company for it's view. A lot of anger has been expressed in this matter.
GoDaddy's competitors are enjoying this phase as it's a big sale-like situation for them. Many tech blogs and Internet companies have written against the SOPA as they believe that this act would de-stabilize the whole Internet.
HostGator's official blog also published a post saying that it's completely against the SOPA. Along with that they included a special discount code named NOSOPA. It's very visible that the code is also a protest against the act.
Flat 50% Discount on Shared/Reseller/VPS Hosting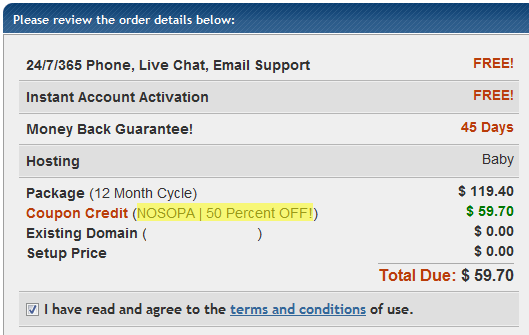 As you can see from the above image it's a flat 50% discount. This code is valid for Shared, Reseller Unlimited hosting and also for VPS hosting (discount is valid only for the first month in VPN's case).
To get this 50% discount go to HostGator and sign up for a new hosting account. Enter the domain name (provided you already bought one) or register for a new one at HostGator itself. In the second step i.e. the coupon code input box, enter NOSOPA in it and click the button below to proceed to step 2.
After the Black Friday offer in november this is your golden chance to avail quality hosting at such a discounted price. So new bloggers, start-up guys buck up and make full use of this offer.
So are you going to use this offer and buy a hosting for your site or blog ?