On BlackFriday we saw both DreamHost & HostGator giving out Huge discounts on each of their Hosting plans. Though the 80% HostGator Discount was just limited to 100 Sign-ups. So it was on for just 5-10 mins. Even during that time, many could not grab that offer because of the server issues HostGator was facing due to large number of visitors. It caused their Billing system to crash.
So ultimately only few of them managed to grab that hot 80% Discount. Though they continued the 50% Discount for the whole day. In case you were out on Friday or didn't have funds to buy a hosting for yourself; then you don't need to worry. Both the Hosting Companies are again going to offer huge discounts on CYBER MONDAY.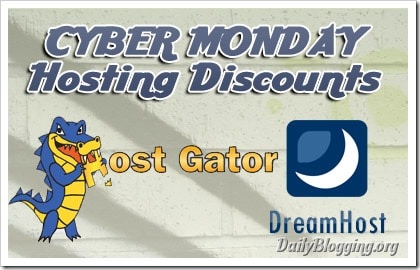 HostGator 50% Discount
HostGator is going to continue the same deal of providing 50% Discount on all it's hosting plans. Remember that only Shared & Reseller plans will have 50% Discount for any term length whereas VPS & Dedicated Hosting plans will have the 50% Discount for only the first month. So I would suggest you to go for a Shared or a Reseller plan of a minimum term length of 2 yrs. That would benefit you the most.
The Discount will run throughout the day as per CST (Central Standard Time) i.e. –6 GMT. So accordingly signup using the link below to avail the 50% Discount in your Respective Countries.
HostGator 50% Discount Coupon code : CYBERMONDAY2010
---
DreamHost 97$ Discount
DreamHost may not be as good as HostGator when it comes to quality. But it's certainly in the best hosting race. It has improved a lot in the recent years. On Cyber Monday it's gonna offer a huge discount of 97$ on the Web Hosting plan, which is inclusive of a free domain name (worth 9.95$) & it's WHOIS privacy. So you only have to pay 22$ to get your Shared Unlimited Web Hosting.
DreamHost 97$ Discount Coupon Code : CYBERMONDAYSALE
You can Subscribe to Our Daily Updates / RSS Feeds to receive discount coupons, promotional offers, etc.
So did you make the most out of the HostGator Black Friday discount ??