DailyBlogging Weekly Round-up (12th July – 18th July,2010)
This week we have come up with another round-up of the past weeks posts incase you missed some. This week I tried to post a little more completely 8 posts in a week thats just 1 more than a more per day. Incase you missed some important posts in this month then you can check the last to last weeks round-up between 5th July – 11th July. I'm also planning to start a new category for Top 10 popular posts in a month so that you can get an idea which post at DailyBlogging rocked the entire month. This past week I created three new categories viz – WordPress, Blogging, Software & finally News. Will write some quality posts in these categories in the upcoming days.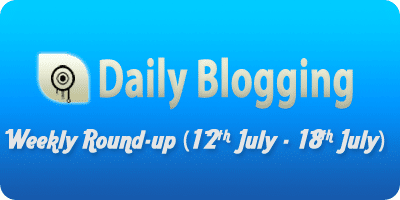 Hope you liked the posts which I wrote this week. Also created a Privacy Policy page 2 days before so that everyone can be assured of their own privacy!
Do you have any suggestion regarding my writing ? Use the comments section to tell me.
Share on Facebook
Tweet this post