Firstly, sorry for the delay in posting the roundup. Normally we do it on Mondays, but due to Internet issues, college assignments & with an unwell body hit with fever I couldn't write it up. Like last time I have maintained the 3 post frequency. I'm pretty delighted to see the alexa rank inching closer to the 1 lakh mark.
Few days ago a commentator had asked me the secret behind the success of DB. So, I would be writing a killer (hope it is!) post about "How DailyBlogging got so much success within a short period" after we are below the 1 lakh barrier.
Also, Guest posting would be officially opened up for guest bloggers willing to share their knowledge in the form of blog posts.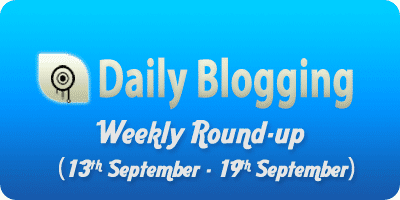 Weekly Round-up :–
SEO
Technology
Social Media
Hope you liked these three articles. Keep reading & Subscribe to our Daily Updates! A big thanks to those who answered the question I put forward in the last weekly roundup.