Hi! Hope you are enjoying the start of the week, though Monday's are like hell in any office goers life. Try to have a smile on your face. Today with a smile I present another weekly roundup for the past week.
I'm happy to announce that we are swiftly moving ahead to cross the 1 lakh barrier in alexa. Now we are at 184,184. So if all goes well & we continue to progress this way then you can expect us to cross the 1 lakh barrier in around 2 weeks time. I have set that as one of my targets.
This week I'm also planning to introduce Guest Posting to give other bloggers/freelance writers an opportunity to write posts for us. I'm not very keen on integrating Adsense revenue Sharing at the start itself. Though it will be introduced by the time I get an approved Adsense account for DailyBlogging.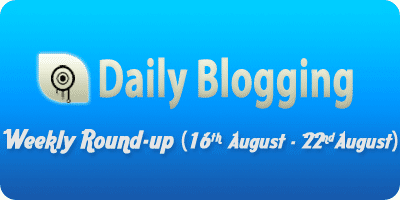 Weekly Round-up:–

News
Advertising
Social Media
Internet Marketing
SEO
Internet
Hope you liked the quality of posts this week. Keep reading & incase you havn't yet subscribed us yet then do subscribe to our Daily Newsletters & RSS Feeds.