I hope you have checked the last weekly roundup we posted. There weren't many topics I could cover up this week as I concentrated more on decreasing the site load to ensure better SEO & also focused on mainstream & lengthy topics. You can expect such big topics being covered by me even this week around.
After two to three days I will be coming up with the monthly Wrap-up & traffic stats as I did for the month of July.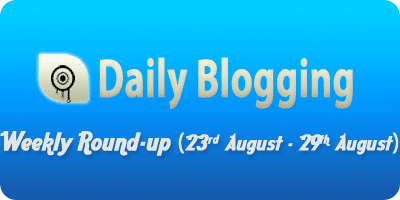 Weekly Round-up:–

HowTo
Social Media
Internet
Will try to cover up more such mainstream topics this week. Till then stick to DailyBlogging with the help of our Daily Newsletters. You can even Guest post on DailyBlogging, just fill up the Contact form & I will reply back soon.
If you want me to write a post on a particular topic, do care to drop in a comment in this post. I will post them ASAP.