DailyBlogging Weekly Round-up (28th June – 4th July,2010)
From today I'm going to do a weekly Round-up for every article made in that particular week. The round-ups will be according to the categories in which the posts have been added to, So that the readers would get a clear view of the posts made from their favorite category. Those regular readers who have missed some posts would also get a complete list of posts.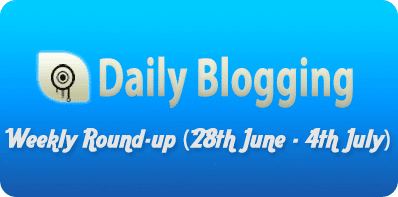 Social Media
Internet
SEO
Google
HowTo
I missed out on the 28th since was very busy and hadn't scheduled any post, Sorry for that, will remember to schedule at least if I can't write an article on that particular day. Just want to say, watch out for more Killer posts in the upcoming weeks. If you want to see all the posts till date visit the Archive Page.
Share on Facebook
Tweet this post