Last week it was the month end, so I avoided the normal weekly Round-up of posts & instead posted a Monthly Wrap-up to collect the entire months posts in one place. Today, I'm back with another Round-up of posts for the past week.
This week we introduced a new category called 'DB News' in which we will be posting all updates regarding DailyBlogging like the traffic stats, Monthly income, new features and news about DailyBlogging & so on..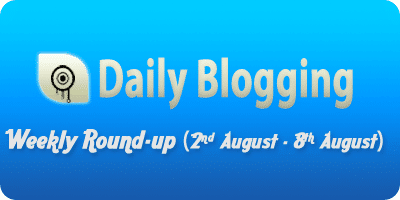 Weekly Round-up:–

Internet
Web Hosting
SEO
Software
HowTo
Monthly Wrap-up
DB News
This week I will be customizing DailyBlogging a bit, will come up with certain HowTo posts too about the same. So subscribe to our Newsletters.
Have any suggestion/comments regarding some post ? Or you want certain tips on a particular topic ? Use the comments section to let me know!