Another week has started in this very auspicious month of September. A month full of festivities & joy. Hope you're enjoying this month along with your family & friends. We normally post our Weekly Round-ups on the starting day of each week (i.e. Monday). But due to some reasons I wasn't able to post it yesterday.
As it's Never Too Late, I have compiled all the posts posted in the past week & come up with another set our usual roundups.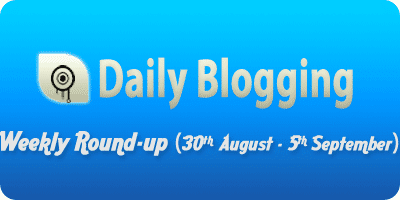 Weekly Round-up
Internet
DB News
Monthly Wrap-up
Technology
SEO
A big thanks to all my readers & friends who share the posts posted on this blog which gives the posts a better exposure. Also to let know everyone that we are closing to the 100k milestone in Alexa. I have decided to open guest posting on this blog once we cross that 100k milestone.
Do you have any tips regarding setting up Guest posting ? It would prove helpful in setting up guest posting on DailyBlogging.