So, here we are again to present a roundup of posts for the past week like we did the roundup for the 1st week of September. This past week was filled with lots of festival celebrations. Hope you enjoyed all those festivities with your family, relatives & friends. I wasn't able to cover up much posts this past week as my colleges have just begun & 2-3 days I was busy in the admission process.
But I will continue to maintain a post ratio of 4-5 quality posts every week. Subscribe to our Daily Newsletters to stay in touch with us.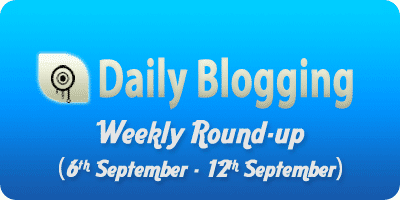 Weekly Round-ups :–
Web 2.0
Web Design
Technology
I have only 3 posts to round-up (sadly). Hope this week I'm able to cover at least 4-5 posts. Thanks to all tweeps & friends for sharing the posts. Keep Supporting.
Do you have any tips for me, to overcome such a low post frequency ? Voice in your comments using the comments section below!