This is a Guest Post by Margaret who works for IX Web Hosting. If you also want to see your post here on DailyBlogging, then go to 'Become A DailyBlogger' page and submit your post for review.
SEO might be difficult for first time bloggers and also for skilled bloggers. WordPress by itself already enables the search engines to view what is happening but there are many really helpful plugins which simplifies a bloggers life and that allow you to rank far better. I find the set of SEO plugins down below ideal for each and every weblog you host, and I'm of the opinion that they shouldn't end up being missed.
Before proceeding take a look at the Top 10 WordPress Plugins we use on DailyBlogging.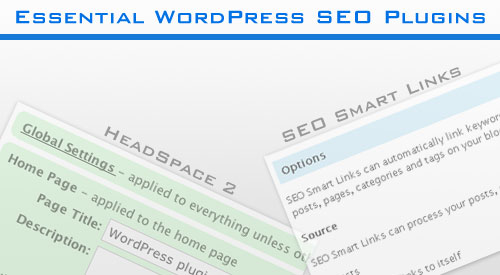 #1
HeadSpace2 SEO
The HeadSpace2 is one of the best SEO plugins available for WordPress. It enables you to control almost every aspect of your sites Meta data. It allows you to fine tune your site. You can tag your posts, create custom titles and descriptions that improve your page rank. You can also change the theme or run disabled plugins on specific pages, and a whole lot more.
#2
All in One SEO Pack
The All in One SEO Pack is included in every list you find and with good reason. It allows you to configure your page titles, Meta tags and keywords as well as descriptions for either your whole blog or for individual page by individual page. Another advantage of this plugin is that it is compatible with other WordPress plugins and every beginner can handle it.
#3
SEO Smart Links
SEO Smart Links is important as it helps you to interlink your subpages to one another. All you have to do is predefine keywords that the plugin should link to other articles that focus on similar subjects. This doesn't just help your readers to find other relevant posts but it also helps Google to see how well structured your blog is and will eventually turn into a better ranking.
Remember that Interlinking is one of the ways to Keep Visitors Glued to your Blog and hence reduce bounce rate. Go for SEO Smart Links Premium version if you want to play with more options and make your task automated.
#4
SEO Friendly Images
The images on your web blog can be a magnet for traffic, as a lot of people search for imageas on all kinds of topics. The SEO friendly Images plugin helps you to not forget that each and every images has a title and an alt text. This again helps the search engins to crawl and index them.
#5
SEO Slugs
The SEO Slugs plugin removes the more common words like "you", "what", "a", "the", "in" from post slugs to improve search engine optimization. This means that it transforms your post slug from:
"/what-you-can-do-immediately-for-higher-rankings"
to
"/immediately-higher-rankings"
You can always edit the slug before you publish your post, or you leave it as it is.
I hope that with the above SEO plugins you'll be a lot more successful in Blogging and get more Search Engine Traffic. If you liked this post, then consider Subscribing to Our RSS Feeds / Daily Updates & also 'Like Our Facebook Page'.
For further questions and suggestions don't hesitate to leave a comment.