This is a Guest Post by James Adams who is a freelance writer at OfficeKitten.co.uk, a leading office supplies based in the UK.
Your desk does not need to be declared a national disaster area. You can become the most organized person in the office by cleaning your desk once and maintaining that organization.
Remove all of the items from your desk and returning it according to your needs. Ask yourself 'do I need this?' at every available opportunity. If you're an Entrepreneur or a blogger you'll certainly need these eight steps to get you're desk organized.
You need to convert your disorganized desk into an Organized one. A complete transformation as shown in the image below.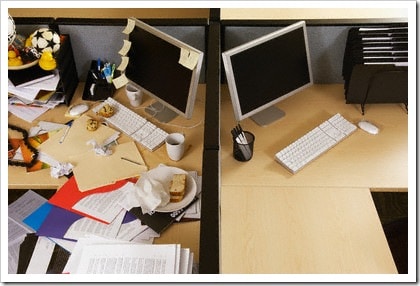 [Image Credit]
Step 1:
Put it in the open
Remove everything from your desk drawers and put it into temporary boxes. Place the items into categories. Keep the office supplies with the office supplies. Keep the CDs with the CDs. Make a small stack of books. If you know that something is trash, throw it away. There is no need to keep the older items around.
Step 2:
Wipe it down
Once you have removed everything from your desk, take a damp cloth and wipe it down. Clean the fronts of the drawers. Empty the strange debris which collects in the corners of desk drawers.
Remove any bent paper clips which have been used for floppy disk retrieval. Use a damp cloth to wipe your monitor and your keyboard. Gently shake your keyboard over a trash can to remove dust and particles.
Step 3:
Uncross your wires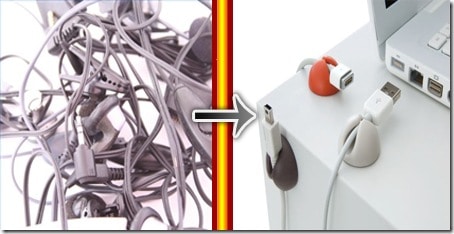 Drop under your desk to look at the wires of your computer. Do they resemble a giant bundle of spaghetti? Untangle the wires leading to your computer and your monitor.
Wipe the bundles of cabling to remove any collected dust. Make sure that your wires are not spread across the room. Consider relocating anything which forms a tripping hazard.
Step 4:
Take things away
Everything is in the open. You recognize the value of the items which were not immediately trashed, but do they need to be stored at your desk? You might have found a treasury of pens and paper. Do you have an office supply cabinet where these items can be returned? Find a home for these items which is away from your desk.
Step 5:
Throw away old printouts
You might have a habit of keeping reports and old printouts on your desk. You have already used the snippets of information for the presentation. You have already read the information in the report, why are you keeping it? If there are materials which you should have delegated, place a note on it to remind you to delegate when you are done.
Step 6:

Use a small notebook
There might have been important scraps of paper cluttering your desk. Look at each of the notes and transcribe their information to a notebook. A notebook is less likely to be lost. With color coding, you can keep everything organized. Throw your notes away as soon as you have transcribed them to the notebook. Leave only a notebook on your desk.
Step 7:

Put like with like
You have removed everything from your desk, thrown away the trash, and removed the unnecessary items. Take the remaining items and group them together. Put office supplies in a single drawer. Put items for your hanging files away. You are repopulating your desk with a clean slate. The surface of the desk smells good, the wires and uncluttered, and you are ready for another day.
Step 8:

Develop a system
Once your desk is absolutely clean, develop a system for keeping it clean. The best way to keep your desk clean is to immediately take care of actionable items. Do not allow a report to sit on your desk for any longer than a day. This process reduces your cleaning time from half an hour to around give minutes.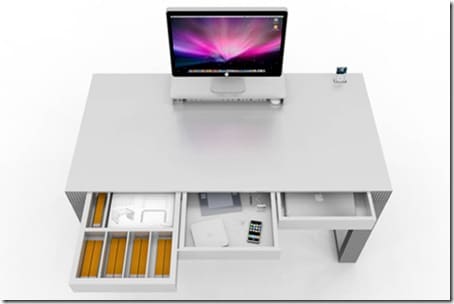 [Image Credit]
You can have a clean and organized desk by keeping a small notebook, maintaining an office supply drawer, and throwing out irrelevant items. Organized people will designate a time to clean their work area. It takes only a few minutes to have a great looking desk.
Do you follow any of these 8 tips ? Have you every thought of getting your desk organized ??