About DailyBlogging
Last Updated on :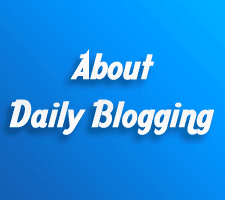 Welcome to DailyBlogging's about page. Here you will find detailed information about DailyBlogging and its working.
The first part will be about Mani and the following next paragraph will be about DailyBlogging. Do share it with your friends if you like it.
About Mani Viswanathan
Mani Viswanathan, the owner of DailyBlogging who is a Blogger, Web Developer and also an aspiring Entrepreneur from Mumbai, INDIA. He is specialized in HTML and CSS.
Growing as a student he knew nothing about the internet world till 2008, though with some basic knowledge and his interest in this field, he grew into a web developer within a very short span of time.
About DailyBlogging
DailyBlogging isn't Mani's first ever blog or site. He has previously co-blogged at TalkOnSomething. Due to immense interest in the field of Blogging he started DailyBlogging. Insights about this blog will be added in this very page but after a while.
Connect With Us!