It's been a couple a days since Microsoft unveiled Windows 8 Consumer preview (or Win8CP as the trends would read). Most of us got very excited to try it out as soon as it got downloaded.
Some of us even cursed Microsoft for their shitty servers and the problems caused while downloading the Windows 8 Consumer preview installation image. (.iso). As always I chose the tension-free way of torrents and downloaded the setup files smoothly.
So after downloading I was in a dilemma – whether to go ahead and install it or not. I obviously wanted to test Windows 8 CP and not upgrade it upon Windows 7 Ultimate. But when I ran the setup.exe file after mounting the .ISO file, the installer gave me no option other than upgrading to Windows 8.
After a 10-minute search I finally stumbled upon a Microsoft forum post to find out ways to dual boot Windows 8 Consumer preview along with my Windows 7. Actually the post instructions were specific to the Windows 8 developer preview but thankfully it worked on Consumer preview as well.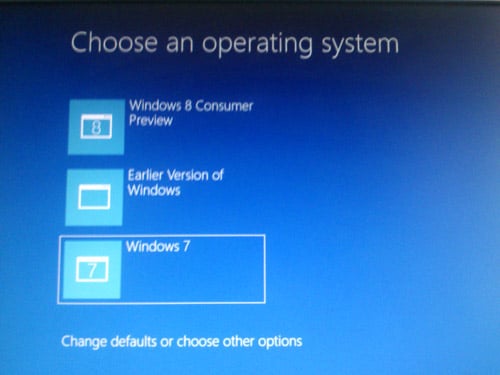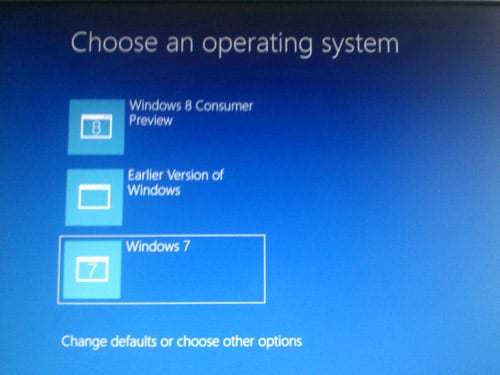 I had to search for dual booting tricks because I didn't have a pen drive or DVD at that time. So the traditional way of creating bootable USB or DVD drives was an useless option for me.
Usually when we mount images of OSes the installer displays an option to upgrade or to install in a partition. But Windows 8 Consumer preview didn't show that option at all. So I was left clueless at that time and that forum post filled with instructions came as a life-saver.
So I just wanted to share that little trick mentioned in that post with you all. That one step solves our entire problem or dilemma in my case.
Dual Boot Windows 8 Consumer preview with Windows 7
Download the Installer image (.ISO file) from Microsoft.com (or via this torrent). I wouldn't recommend downloading Windows 8 consumer preview using the setup file they provide by default. So choose the .ISO version for break-free downloading.
Now once you've downloaded the setup files, it's time to move on and create a partition in your hard disk drive specifically for the Windows 8 installation. Right click on the Computer icon in your desktop and select Manage. Browse to the Disk Management section in the Computer Management window.
Now right click on your primary drive which has the maximum free space and select the Shrink Volume… option. (I'm not covering a detailed tutorial for creating partitions in this post, so please refer these two specific posts for the same : Shrink current drive volume, Create partition out of free space). Windows 8 requires around 16 GB, so create a 20 GB partition.
Download PowerISO free version and install it. (Daemon tools would work as well). After installing you'll see a file called 'PowerISO Virtual Drive Manager' appearing in the Start menu programs shortcut section. It'll open minimized by default and you'll find it in your tool tray bar.
Right/left Click the PowerISO tool tray icon & single-click the 'Mount Image to Drive [X:]' option. (Here X: drive is just an example). You'll see any other free drive in your system. An Open window will pop-up where-in you have to browse to the folder which contains the Windows 8 Consumer preview .ISO file.
After mounting the image a new virtual drive will appear in Computer under the section 'Devices with Removable Storage'. It 'll read something like 'HB1_CCPA_X86FRE_EN-US_DV5' if you've downloaded the 32-bit version. Right click on that drive and select the 'Open in a new Window' option.
Now don't get very excited and run the setup.exe file as you'll end up upgrading to Windows 8 CP. Instead go to the sources folder and run the setup.exe file from there.
Choose the first option i.e. to install updates from the Internet in the first step. It's always better to let the installer search for missing components required to facilitate a smoother set-up.
The all important stuff is in the second step. Here we choose whether to Upgrade to Windows 8 Consumer preview or install it as a separate OS.


Dual-Booting Windows 8 CP with Win 7. Select the second option.

Since we want to dual boot Win 8 with Win 7 we've to choose the second option.
In the next step you'll asked the drive/partition where you want to install Windows 8 Consumer preview separately. Select the partition you created in Step #2 and proceed ahead. Don't even by mistake select the drive where you've installed Windows 7 or any other OS, else it will overwrite it. Remember we are dual booting here not upgrading OSes.
Your PC will restart a couple of times before the actual Win 8 CP installation begins. So don't worry about it.
After the installation is complete you'll be asked to select the default OS, choose Windows 7 for the moment as not apps, games, files are compatible with this consumer preview version of Windows 8.
Lastly, you'll see a new dual boot loader every time you start your PC which will allow you to choose between Windows 8, Windows 7 or earlier versions of Windows (XP, Vista).
I've tried to list out all the steps that I possibly could. Don't forget the 8th step is the most crucial as it provides the option to dual boot and not just plainly upgrade.
Hope this long tutorial helped you in some way or the other.