As web surfers we are very keen to know which website uses which script or CMS (Content Management System). No? Well one would be certainly lying if the answer to that question would be 'No'.
Here we are NOT talking about client-end scripts like jQuery, JS or Ajax instead we are focusing on the site's core scripting/coding language like HTML, ASP, PHP, etc. Which obviously brings in the CMS's like WordPress, Joomla, Drupal and many more under the contention.
One of the common methods is to use the Developer Tools section of your browser and check out the source code of the website. All CMS's or forums or other frameworks maintain a systemic approach which doesn't vary much from version-to-version.
Some common examples include the Meta Generator tag in Joomla and WordPress, Footer copyrights, custom scripts like the <vbscript> and specific CSS classes like vb_divname as seen on a vBulletin forum.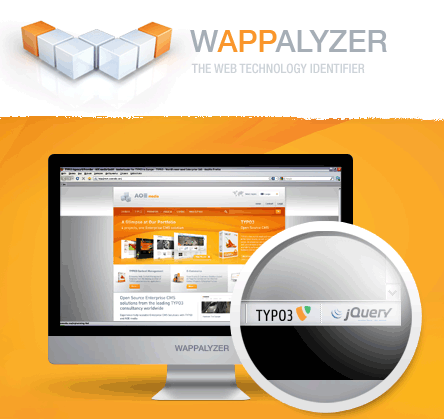 Without much ado let's quickly take a look at all the 5 tools in brief which will help you detect the scripting of a website.
With a database of meta information on 673 million websites on the internet, BuiltWith on my list is the number one website sniffer or detector tool considering it's quickness and detailed analysis. Builtwith also has a chrome extension for better usage. You can find it on their site.
It is not just website scripts and CMS frameworks, Builtwith does a lot more than that – The provide details on Server Information, CMS, Programming Language Framework, Advertising Frameworks, Analytics Scripts, CMS plugins used,  Website Builder and more
Pricing: If you are good with basic technology profiling, BuiltWith is free. But for people who want detailed technology profiling, Builtwith has a $144/year plan, often given at 99/year(as a promotional offer)
What can you do with BuiltWith Paid Plans?
There are more advanced plans for people using web script and technology detectors for sales, outreach, lead generation and market analysis 
For instance here is a use case for: BuiltWith scrapes a list of sites using software KEYWORD on their websites homepages. If you want to that whole list, you will have to subscribe to their paid plans.
In the same way, if you are a software developer and want to get hold of your competitors user base, BuiltWith paid plan is your best option on the internet
If you are developing plugins for Magento, you need that list of sites using that ecommerce CMS or list of sites using a particular Magento plugin.
If you are planning to buy BuiltWith paid packages, here is my detailed review and guide on what you can and cannot do with each of their packages.
Onlinewebtool's CMS detector (as the name suggests) does only the job of detecting the CMS of a site. The disappointing part of this tool is that it just displays the name of the CMS of the site you search for instead of providing extra details like the build, version of the same.
But sometimes you do need such specific tools for faster completion of your task.
Wappalyzer is probably the quicker of the aforementioned tools because it's an add-on and not an online tool. So we expected it to show instant results as soon as the site loaded and mind you it didn't disappoint.
An extension for chrome is available in the Chrome web store and a plug-in is also available for Firefox in it's repository. The good thing about Wappalyzer is that it has a bookmark-let which can be dragged on-to any browser and used efficiently.
Chrome Sniffer is the popular-most tool among the above 3 and that's the reason we decided to put it at the end. It displays the CMS, advertising scripts, javascript or jQuery scripts & analytical codes much like the Builtwith tool. The difference is that it indicates all of them in the form of images instead of plain texts.
Now with this post I hope you won't face any major problem in detecting CMS or scripting of website(s).
Have you used any other tool or extension apart from the above 4 for sniffing through a site ?
How To Check Website CMS and Scripts Used Without Tools?
One of the common methods is to use the Developer Tools section of your browser and check out the source code of the website. All CMS's or forums or other frameworks maintain a systemic approach which doesn't vary much from version-to-version.
Some common examples include the Meta Generator tag in Joomla and WordPress, Footer copyrights, custom scripts like the <vbscript> and specific CSS classes like vb_divname as seen on a vBulletin forum.