I read somewhere that email is dead for marketing. Then I came across this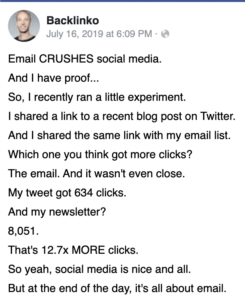 This clearly shows how email converts better than social media. So I decided to dig deep into my theory EMAIL MARKETING HAS BETTER ROI. So I researched on following topics here:
ROI of email marketing,
Spending
Conversions
metrics of different email marketing tools, and more.
Email marketing's greatest value: High ROI!
The median email marketing ROI is 122%
According to the eMarketer, it is 4 times more than any other digital marketing channel. If this did not convince you, how does 42$ return on every $1 spent sound?
The estimated growth of email users by the end of 2020 is around 259 million.
According to the survey, people who are working spend at least 6.4 hours a day checking their email. Also, more than a third of people between the ages of 25 and 34 check email before going to bed.
Email marketing is more effective in acquiring new customers than social media applications like Twitter or Facebook. Using social media and email collectively can help to increase sales and lead generation.
Using emails cannot guarantee a fast track to success. 29% of marketers evaluate email effectiveness by looking at ROI metrics. Email design, subject line, and copy, A/B testing may help to drive success.
(wishpond)
Effectiveness of Email Marketing ROI
Email marketing is still booming.
Email marketing ROI is up to 4400% and $44 for every $1 spent. Email marketing magnetizes potential customers. For every $1 spent – email marketing yields $44 back. So, email marketing is considered the most cost-efficient digital marketing.
According to PPC statistics, the average ROI for paid advertising is $2 for every $1 spent when compared.
(99firms)
Email marketing ROI of 18% of the companies achieve greater than $70 per $1 invested.
73% of the marketers rated the ROI of email marketing to be 'Excellent'.
For 59% of the marketers, email is their biggest source of ROI.
Email marketing ROI scores high in comparison to digital channels and direct mails. ROI on the email was 28.5% when compared to direct mail which is 7%.
(99firms)
Email marketing offers ROI in different ways which can be measured in email campaigns.
Increase Company Revenue
Email marketing is the greatest driver of revenue for many businesses. Email marketing ROI revenue continues to improve year over year.
More than half of the email users prefer to get updates through email from brands they follow.
According to the survey from eMarketer, 25% of the overall revenues of the companies are driven by the email marketing
Improved Sales Conversions
The important role of email marketing ROI is not only driving the revenue but also to help businesses in improving sales and conversions.
Amplified Brand Awareness
Brand awareness is very important in generating email marketing ROI.
Defining awareness will also impact the strategy for achieving brand awareness goals and metrics used to measure ROI.
Trends in Email Marketing ROI
A marketing survey states that 66.3% of the marketers trust that email ROIs will increase in 2020.
Marketers are expecting the email ROI to climb even higher despite the fact that email ROI is already higher than any other marketing channel. The majority of the marketers agree that it will continue to be the top channel in delivering ROI for at least the next 5 years.
Email marketing ROI is the most consistent channel in different marketing channels.
Email marketing ROI is easy to measure than any other channels and that is the reason email sits at the top.
Email marketing ROI is the uppermost and fastest-growing channel. An email has become a 'luxury' channel.
(accetrix)
Email Marketing ROI and Metrics
70% of brands cannot measure email marketing ROI as well. (litmus)
Only 46.7% track ROI correctly and only 27.7% measure the subscriber lifetime value.