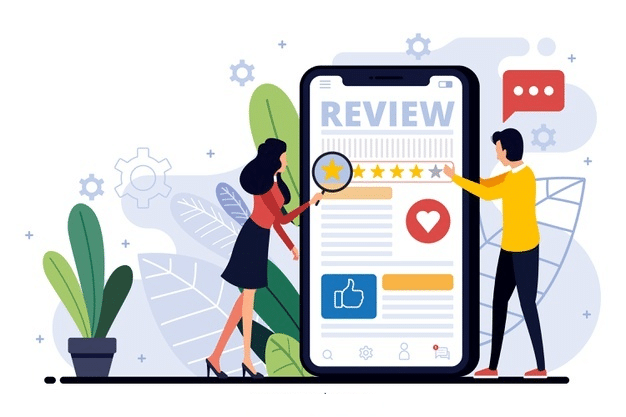 Testimonials show that the product or service does really work well as it should.
Consumer testimonials are very powerful tools that help to build trust and credibility, as well as increase website conversions.
Reading and watching testimonials has become a natural part of the customer journey. You can increase the chances of winning new customers by ensuring your company has several testimonials. Testimonials could be on your website or external sites.
Instead of "your word", that the product or service does impact the customer's life, let the real consumers hear from the other real consumers why the product or service is good.
Do you know?
88% of customers trust online testimonials as much as recommendations from family or friends.
In this guide, I'll go over everything you need to know about Testimonials.
I've got you covered with the following topics:
Testimonial marketing Facts and Figures
Testimonial marketing Revenue
Video Testimonials importance
Testimonial marketing Benchmarks
Testimonials tips and benefits
Best practices of Testimonials
Fascinating Facts:
Online reviews influence the purchasing decisions for over 93% of consumers.
92% of consumers read online reviews while purchasing a product.
97% of B2B consumers say that testimonials and reviews are reliable types of content.
62% more revenue is generated from regular consumer testimonials.
Websites with testimonials have a 45% increase in traffic compared to websites with no testimonials.
Testimonial marketing Statistics
92% of the consumers read online reviews or testimonials before they make a buying decision.
Potential shoppers read at least one online review before making a purchase decision.
70% of people trust recommendations and reviews from strangers.
72% of the customers trust in a business if it has positive testimonials and reviews.
(nielsen)
More than 88% of the consumers say that testimonials incorporate the purchase decisions.
Online customer reviews are essential for the reputation of the local business. 63% of the people are likely to buy from a site with ratings and reviews.
(vendasta)
56% of people find reviews or testimonials helpful.
Customers can engage in reading the testimonials and make a purchase decision.
97% of B2B consumers say that testimonials and reviews are reliable types of content.
Two-thirds of the consumers found online reviews as valuable. customers would rely on reviews to buy a product.
73% of the customers read six or fewer reviews before making a decision.
Around 12% of the customers read more than ten reviews. (Vendasta)
About 40 reviews are needed to consider the business as star-rating.
10 reviews can help the business to increase in search traffic.
Software customers who got feedback from their peers are 2.5X more satisfied with their purchase.
According to Software Advice, buyers who got feedback from consumers prior to purchasing software were more satisfied than those who failed to take this step.
Testimonial marketing Facts and Figures
More 62% of revenue could be generated from consumers with the help of regular testimonials every time they visit your site.
Adding just one review can increase the product page results in a 10% increase. There could be a 25% increase when the product page has around 30 reviews.
92% of the people read testimonials when considering a purchase.
72% of consumers said that testimonials and reviews help them to trust the business more.
(Vendasta)
Consumers who interact with testimonials and reviews are 58% more likely to buy the product.
People who interact with testimonials and reviews spend 3% more on average per order (Big Commerce)
Testimonial marketing Revenue
Approximately 62% more revenue is generated from regular consumer testimonials.
Reputation can increase the brand's market value by 25%.
(Deloitte)
Consumer testimonials placed along with expensive items could increase conversion rates by 380%.
Testimonials Improve Web Traffic and SEO
Testimonials and reviews play an important role in search engines to find the best results for search queries. Search Engine Optimization (SEO) can win more search traffic by improving the testimonials and reviews.
Websites with testimonials have a 45% increase in traffic compared to websites with no testimonials.
Listing 10 or more testimonials increased the traffic from 15 to 20% on Google Business listings.
Why trust Testimonial?
Trust is the root of the power of testimonials.
Before the rise of the internet, the purchasing decisions of the shoppers were influenced by recommendations from family and friends.
"Word of mouth" marketing has also moved online after the introduction of online shopping and social media.
Now
Shoppers are happy to trust the online testimonials just as much as they trust recommendations from family and friends.
And 88% of the customers trust these reviews just like personal recommendations.
9 out of 10 consumers say that they trust customer's reviews about business than what that business says about itself.
(Wyzowl)
92% of the consumers trust recommendations from a peer and 70% will trust a stranger's recommendation.
(Nielsen)
83% of consumers do not trust advertising.
91% of millennials trust online reviews or testimonials as much as family and friends.
Video Testimonials importance
Video testimonials are the latest version of practice which takes its effectiveness to the next level.
According to the Wyzowl survey conducted with 238 people, video testimonial's role in purchase decisions and brand perception is very high.
Video testimonials are preferred by 79% of the people to find about the company or product.
2 out of 3 people would like to make a purchase after watching a testimonial video.
47% of people prefer testimonial videos because they help to visualize the product details.
39% of people like to watch testimonial videos because they illustrate the impact of the product or service can have on their life.
(Wyzowl)
Why should you be using video testimonials?
It all starts with one thing:
1. Videos Trigger Emotions
Text is sterile and unemotional, but videos evoke emotions. It gets through the viewer's heart right away.
When a customer is visibly thankful or happy because of the product, potential customers will feel it too.
(uscreen)
Video testimonials evoke your customers emotionally.
2. Video Has a Higher Retention Rate Than Text
Video has a 95% retention rate, while the text has only 12%. From videos, emotional centers are activated in the brain, which increases the information retention rate.
(virtuets)
3. People Prefer Video
Most of the time customers prefer video over text. 59% of the executives would prefer to watch a video than reading text.
Video testimonials were preferable by 56% of the people.
Including the word "video" in the subject line of an email has increased open rates by 19%. CTR jumped to 65% and unsubscribes went down by 26%.
(highq)
4. Videos Get Shared
Surprisingly, people share videos 12 times more than text and images. According to pew research, 47% of adult internet users share online videos or photos.
Testimonial marketing Benchmarks
Testimonial marketing Conversion Rates
Consumer testimonials helped the websites in increasing conversion rates.
If the review volume is increased, then the conversion rates are also increased. 50 or more reviews per product give a 4.6% increase in conversion rates.
If five consumer testimonials are displayed, conversion rates could increase by 270%.
(spiegel)
Social proof statistics states that testimonials can increase conversion rates by 34% on sales pages.
For example
Figleaves.com is an e-commerce store that has been tested including product reviews, they saw an increase of 37.5% in conversions.
Testimonial marketing CTR
Online marketers are yearning to improve their CTR by focusing on reviews and testimonials.
In a study conducted via Google, Improving ratings of the reviews from 3 to 5 stars can also increase clicks on Google up to 25%. A 5-star rating-boosting search has a CTR of 28%.
Testimonial marketing response and follow-up
The way you respond to the customer testimonials can definitely make a difference. The key thing is to bring your customers back to your next purchase.
Here are a few things on how to give a response to both positive and negative reviews that could lead them back again.
When responding to positive customer testimonials:
Thank them
Make it personal
Invite them back
When responding to negative customer testimonials:
Apologize
Own up to it, and if applicable, try explaining the situation
Share the steps you are taking to remedy and improve the customer experience for next time
Invite them back again
(Vendasta)
Testimonials tips and benefits
Testimonials will aid the consumers to convince them and purchase the products.
Here are the benefits of using testimonials.
Boost trust and credibility: Buyers do trust the peer reviews when compared to the descriptions of the products given on web pages. Consumers will do business if you have several positive reviews from their peers.
Increase in business: Buyers will read the testimonials on websites or social media before making a purchase. If the testimonials show that customers are raving about your products then other people will buy from you.
It makes clients feel special: Testimonials cements the emotional bond that makes them loyal to your brand. Asking for testimonials makes the client feel special.
Gives prospects a glimpse of how to use your products and services: A customer testimonial on using your product can convince the prospect to buy the product from you.
Testimonials best practices
Visuals also have a great impact as much as they have it for text or video.
Select a simple image or video that will make your testimonial stand out and increase your conversions.
Are your testimonials optimized for these devices?
The usage of mobile and desktop is growing fast. There are around 3.8 billion smartphone users in 2020.
In March 2020, Google Chrome has 68% of internet searches globally.
You should optimize your testimonials across all devices.
It is recommended to compress large images, and use 14 or 16 font sizes for readable testimonials.
Are you using the right testimonials?
Customers have different personalities. Some customers give you short testimonials while others write long ones. Focus on the right testimonials that add value to your page.